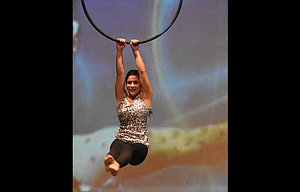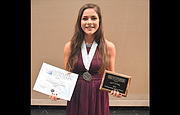 Jessika Nañez, an incoming The Dalles High School senior, was named Oregon's Distinguished Young Woman Saturday in Salem, winning a $3,000 scholarship and the option of full-ride scholarships at various colleges nationwide.
Nañez, the daughter of Rene and Beverly Nañez of The Dalles, is the fourth winner from The Dalles in the 60 years Wasco County entrants have participated. She is named the 2018 state winner, designating the year she graduates.
"I was surprised and very overwhelmed with excitement," Nañez said of her win, besting a field of five other participants. "And I was kind of scared and really thankful I joined the program and that it took me this far."
She will go to Mobile, Ala., next June for two weeks to participate in the national competition.
Nañez had wanted to do the DYW competition ever since she was 10, when she participated in it as a "Little Sister" who accompanied a participant in the program.
Her bond with her "big sister" is still tight today. Her "big sister," Murriah Smetana, even came down from Seattle to see Nañez participate in the state competition.
"I wanted to learn interview skills and it's a confidence booster to do something that's different and scary," Nañez said.
Beverly Nañez said, "A lot of people don't know this but she's pretty shy. This has brought out her ability to make new friends and meet people."
Her goal during her year as the state winner is to promote a return of the Little Sister program in Wasco County, which has not occurred for the last two years.
She also hopes to drum up more participants for the program.
Even those who don't win scholarships say it is an opportunity to learn life skills and create lifelong friendships, she said.
The state level program usually has 12 to 15 participants. Wasco County, Roseburg and Keizer all have programs and send participants to the state level. Other girls can participate as independent entrants if their area doesn't have a DYW chapter.
Nañez and another state participant stayed with a host family in the area as they worked on their eight-minute group fitness routine, their interview skills, their individual performances — which can only last 90 seconds — and did volunteering and some sight seeing.
In her year as Oregon's Distinguished Young Woman, Nañez will also visit the two other chapters in Oregon that have a DYW program.
The DYW program has the theme "Be your best self," and promotes five elements of that: health, ambition, involvement, responsibility and studiousness.
The six participants in the state program were evaluated in five areas: 25 percent on scholastic ability; 25 percent on a 10-minute personal interview before five panelists; 20 percent on talent; 15 percent on self–expression on stage and during the interview; and 15 percent on fitness.
Her talent was a lyrical jazz dance with acrobatic pieces. It was choreographed by Kristi Maley, who helmed a number of state-winning cheerleading teams for The Dalles.
In the Wasco County DYW competition, Nañez won the title, which brings a $4,000 scholarship -- more than the state title brought her -- and she also won the scholastic award, earning her a $2,750 scholarship.
The state participants got a tour of the state Capitol, and Nañez was pleased because on the tour, "they talked about The Dalles quite a bit." She said three of the four murals at the beginning of the tour either talked about The Dalles or the Columbia River.
They also saw Gov. Kate Brown briefly as they toured her office.
The state winners of the DYW competitions have their choice of a number of scholarship options across the country, including offers ranging from free tuition, free room and board and free books.
Wasco County's 2010 state winner, Jacque Underhill, fully utilized a free ride scholarship at the University of Alabama, and is finishing her master's degree there now, said Kristen Kornegay Ringer, DYW chair for Wasco County.
Other state winners from Wasco County were Erin Sutherland in 1992 and Sheri Ashmore in 1980.
For the 10-minute interview before a panel, participants are asked about current events and their stance on various issues, and are also asked about their own accomplishments and interests.
She now has an app on her phone that tells her about current events so she stays on top of things. Her hero, for example, is Malala Yousafzai, a Pakistani activist for female education and the youngest ever Nobel Prize laureate. She saw her speak last year in Portland as a birthday present from her mother.
The girls are encouraged to express their own opinions and be themselves during the interview process, Ringer said.
Nañez was asked where she stood on the legalization of marijuana, "and I said I was not for it because I don't agree with drugs in general and they're not a benefit to society."
As for her accomplishments, Nañez is a cheerleader, an outfielder in softball, a member of the Associated Student Body as senior class secretary, a member of Link Crew – which helps incoming freshmen with orientation – and a member of National Honor Society.
Nañez, who is thinking of studying nursing or another area in the medical field, has considered attending the University of Portland and University of Washington, but hasn't picked a college yet.
Now she has a whole new list of options before her. There are no participating colleges in Oregon, but there are in Washington and California.
Nañez now has two medals from her DYW wins, and likes the sound of them clinking around her neck. "I like wearing them because I like to promote the program."
Any incoming juniors or others interested in volunteering or donating to the program are encouraged to visit the local Facebook page, "Distinguished Young Women of Wasco County."
Since she's been in the program, Nañez said the biggest change for her was "I feel a lot more confident talking to people, and talking about myself and not being so scared to say I've done great things."
More like this story
Latest stories
Latest video:
Mosier oil train fire
Clips from oil train fire in Mosier, Friday, June 3, 2016. by Mark B. Gibson/The Dalles Chronicle. Enlarge