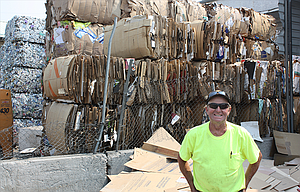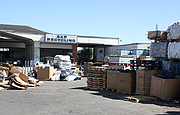 Citing a failure of the business to comply with conditions of its site plan permit, The Dalles Planning Department has revoked the "site plan review" permit for A&P Recycling.
"This started last year as a code enforcement issue," explained Steve Harris, the city's planning director. "The original conditions of approval were not being met, so the city initiated action."
A&P has been in the business of wholesale-nonferrous metals-scrap since 1983. The company is located at 280 Webber Street on property zoned for commercial/light industrial use.
In 2015, the city received several complaints concerning the outdoor storage of materials and lack of screening at A&P. In December 2015, city officials sent a letter notifying the property owner that the original site plan permit included several conditions of approval, including: "All business, servicing, manufacturing, or processing of materials, goods or products shall be conducted within completely enclosed buildings," and "storage may be permitted outdoors but shall be effectively screened by a wall, fence, or planting so that such materials will not be visible from a public way."
The key issues the city wants to clear up are the company's method of outside storage and lack of screening.
"Material is encroaching on adjacent properties, and we've had complaints from property owners," Harris said. "And there is a safety issue with the way the material is stacked near sidewalks."
Harris said the city held hearings in August and December last year, to review A&P's conditions and compliance and allow the property owner to respond to any issues.
According to Harris, the business owner, Paul Lepinski, said he would address the concerns raised by the city, and planning staff recommended that Lepinski be allowed six months to prepare a plan.
Following a public hearing on Aug. 4, 2016, the Planning Commission adopted a resolution giving A&P 90 days to submit a plan to show how outdoor storage would be effectively screened so materials would not be visible, to bring the business into compliance. After that, A&P was asked to implement the approved plan within six months. On Dec. 1, 2016, the Planning Commission reviewed and approved A&P's plan for screening and fencing and set a deadline of May 1, 2017, for implementation.
Harris said a staff review of conditions at the site in May indicated that A&P had not complied with the May 1 deadline.
Lepinski is asking city officials to show a little more patience.
"I had all good intentions," Lepinski said on Wednesday. "I was ready to put fencing in. I agreed to the city's deadline, but I didn't know there would be 72 days of snow on the ground."
"We want to work with him, but he did not attend the hearings," said Harris, who was hired to be the city's new planning director last October. "Since I've been with the department, it has been an issue."
"I'm trying to do my best," Lepinski said. "It's not like I said I'm not going to do it. I want to do it right. It takes time."
"We asked him to come back in May," Harris said. "He had a plan, but since then, however, no progress has been made on required screening. The decision was that he's had enough time, and we don't want to continue this, so we decided to revoke the permit."
On June 15, the Planning Commission was presented with photographs showing that material continued to be stored on the site, and there was no screening to prevent the material from being visible from Webber Street.
On July 20, the Planning Commission determined that A&P failed to comply with the conditions of its site approval, and voted 6-0 to revoke A&P's permit.
"The Planning Commission finds there has been substantial evidence that A&P Recycling has failed to comply with the condition of approval for Site Plan Review (No. 42-83) requiring that outdoor storage of material on the site be effectively screened so that such material is not visible from a public way," read an excerpt from the Planning Commission resolution, dated July 20, that revoked the permit.
"This failure to comply with a condition of approval for the site plan justifies a revocation of the site plan."
Lepinski said there were good reasons behind his failure to meet the six-month deadline.
"I expected to have it done in the winter, but it's difficult to put a fence up with snow on the ground. I've been acting in good faith," he explained. "I told them I'd put the fencing in, but asked them to be fair with me. I hope the city can work with me."
Harris issued his decision on July 26, and Lepinski has 10 business days from that date to file an appeal.
"If there is no appeal, it goes into effect," said Harris.
It was unclear what impact the Planning Commission decision would have on the business.
"If Mr. Lepinski files an appeal, the item will be scheduled for a public hearing before the city council," said Harris. "If Mr. Lepinski chooses not to file an appeal, the city would then take further action to enforce the Planning Commission's decision."
"My understanding is, they would no longer be allowed to operate at that site," added City Manager Julie Krueger. "I suppose one option would be to reapply for land use approval."
Lepinski said he plans to appeal, unless the city agrees to grant him more time.
"Within the next couple weeks, you'll see a big difference here," he said.
More like this story
Latest stories
Latest video:
Mosier oil train fire
Clips from oil train fire in Mosier, Friday, June 3, 2016. by Mark B. Gibson/The Dalles Chronicle. Enlarge