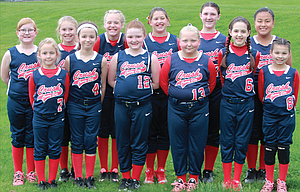 The 2017 Cherry City Crush 10U softball team opened its season this past weekend with a tournament in Newberg and went 0-4 in the combined 'B/C' level bracket, but coach Bob Delaney sees a limitless potential on the roster of 12 young players.
Overall, the Crush is comprised of two 10-year- olds, eight 9-year-olds, an 8-year-old and a 7-year-old, so several are taking their first dip in the competitive softball pool.
"This year's team is extremely young and inexperienced, as there are only four returning players," Delaney said.
With a long-term goal of preparing these players on the fundamentals of the game and further establishing a winning culture, Delaney has tabbed coaches Doug Brock, Roger Hoylman and Patti Delaney to work with him on the process.
Maddie Brock, Laci Hoylman, Despina Seufalemua, Sydney Newby and Lily Marx make up a handful of the players that will provide varied skills to help lead the group to wins and tournament titles down the road.
Bringing power, skill, speed and pitching to the mix are Siyra Faulkner, Keily Lutgens, Bryce Newby, Makiah Iven, Jaden Hansen, Ava Graves and Makenzie Barrett.
"We have a wide range of youth and experience, but they work so well as a team already," Bob Delaney said.
At their Newberg tournament, the Crush hit the field against some veteran 'B' level squads in pool play action on Saturday and fell short of earning a win.
The Crush bounced back on Sunday with a spirited effort against the Rampage, from Skamania County, and lost a back-and-forth game by a close 9-6 margin.
In their finale, the Crush put forth a valiant effort, but wound up losing against another experienced 'B' level team.
"These girls played very hard," Bob Delaney said. "This was quite a first experience for the athletes and they responded extremely well."
The Crush has some time off to work out the kinks and then they take a trip to Canby for a combined 'B/C' tournament on Saturday and Sunday, May 6-7.
After that, the team plays in West Linn on May 20-21 and Newberg on June 10-11, before capping the season at state on June 23-25 in Albany.
More like this story
Latest stories
Latest video:
Mosier oil train fire
Clips from oil train fire in Mosier, Friday, June 3, 2016. by Mark B. Gibson/The Dalles Chronicle. Enlarge