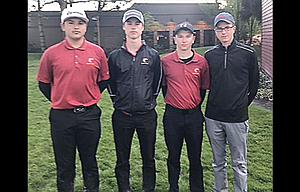 In what has been a common theme this season, The Dalles boys' golf team had to find a way to compete, while dealing with heavy rain and muddy conditions.
Through it all, Chase Snodgrass carded a season-best 72 for second place overall, and the Riverhawk boys' golf team combined for a 324 to capture third place at the State Preview Tournament at Quail Valley Golf Course in Banks on Wednesday.
"The conditions were ugly and horrible. It was wet and muddy, just not ideal for any golfer," said TD head coach Kent Smith. "We survived. The main thing is, once again, the kids proved that they can be mudders when conditions are bad. We did pretty good, all things considering."
Snodgrass' even-par score put him two shots behind medalist Cam Nicklos, out of Lake Oswego, who finished the day with a 70.
"I am proud of Chase," Smith said. "He had his best score of the year in that weather. He stuck with it and did a great job. Hopefully, he can keep that kind of play up."
Pendleton's Nathan Som and Hermiston's Anders Lind finished tied for third place after their 75s on the scorecards, and Joe Torkelson, from Lake Oswego, and Carson Brinkley, of Sherwood, each posted 76s for a fifth-place tie.
As for the rest of the Riverhawks, Tyler Vassar had an 82, Aidan Telles totaled 84, and Mark Felderman ended up posting a final tally of 86.
Smith is looking forward to having a handful of practice sessions to get some elements worked out.
"Even though we have worked on chipping and putting, we are going to have to do more," Smith said. "We are not doing a good job of judging distances on those shots. I have a couple of things they can work on in the next few days and we will see if we can improve our scores."
With the sharp shooting of Nicklos and Torkelson, Lake Oswego finished with a 307 to chalk up a team title, besting runner-up Sherwood (321) by 14 strokes.
The Dalles placed third with its 324, and both Jesuit and Hermiston hit for 333 to secure a fourth-place deadlock.
Corvallis (335), Pendleton (339), Forest Grove (351), Cleveland (354) and Beaverton (355) rounded out the top-10 schools.
The Dalles makes a trip to Prineville for action at Meadow Lakes Golf Course at 11 a.m. on Monday for its final tournament before districts on Friday and Saturday, May 5-6.
More like this story
Latest stories
Latest video:
Mosier oil train fire
Clips from oil train fire in Mosier, Friday, June 3, 2016. by Mark B. Gibson/The Dalles Chronicle. Enlarge