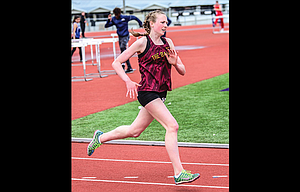 Julian Hernandez added another win to his record, Sam Alvarez hit a personal record and the girls' 4x400-meter relay team of Jordyn Hattenhauer, Jenna Miller, Bailey Nearing and Aileen Luna-Lopez dropped a second-place marker of four minutes and 36.61 seconds at the Kiwanis Invitational Saturday in Hermiston.
Hernandez had a top throw of 159-08 for first place in his field, a shade less than three-feet from his personal record.
Alvarez, a freshman, had a personal-record time of 10:54.47 to claim second place, Cameron Perez hit for third place in the javelin with his personal-record toss of 151-11, and sophomore Justin Conklin hit for a pair of fourth-place finishes in the 110-meter hurdles (15.80) and the high jump (6-0), both personal records.
The 4x400-meter relay of Jack Bonham, Bill Burns, J.R. Scott and Reed Twidwell had a fifth-place time of 3:52.69, Bonham tallied fifth in the 800 with a personal record-time of 2:09.56, Luke McLean had a 3,000-meter time of 9:50.36 to grab fifth place, and Jordan McGuirk added a 121-0 to claim sixth in the discus.
Along with the relay team, the Riverhawk girls' team had Miller claim fourth in the 400-meter race with a final time of 1:04.83 and teammates Aspen Cook turned in a 5:31.99 for fourth in the 1,500 meters.
Addie Klindt, Molly Taylor, Petra van Kessel and Hattenhauer had a fifth-place marker of 55.29, Mercy Iaulualo hit for a 33-03 to grab fifth in the shotput and Kendyl Kumm added an 8-0 for fifth in the pole vault.
Lexi Thomas secured sixth in the high jump after a 4-0, Emily Peterson went for a 7-0 for seventh in the pole vault, Shyanne Cady tallied a 53.10 for seventh in the 300-meter hurdles, and Kayla Seibel dropped a 31-10.75 to lock down seventh place in the triple jump.
The Dalles totaled 40.5 points to finish sixth in the girls' standings, while the Riverhawk boys had 12 personal record to rattle off 69 points for fifth place.
The Dalles makes a trip to Gresham for the Dean Nice Invitational starting at 2 p.m. on Friday.
More like this story
Latest stories
Latest video:
Mosier oil train fire
Clips from oil train fire in Mosier, Friday, June 3, 2016. by Mark B. Gibson/The Dalles Chronicle. Enlarge