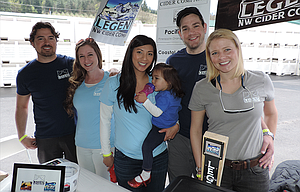 Under a tent with other cider makers was the fitting place for one of Oregon's newest cider makers, The Dalles-based Legend Cider Company, to have its pouring-out party.
The Tyler Bauman and Andrew Piel families formed the business two years ago and were licensed to sell their cider in November 2016.
Bauman and Piel met playing lacrosse at Oregon State University and became best friends. Sixteen years later, they are business partners.
Their wives, Adrianne Bauman and Martina Piel, help out. "It's a family affair," Andrew said.
"When you're getting a business off the ground you gotta do what it takes and it's a lot of work but it's gone well," Tyler said.
Bauman has operated his Mauna Kea Grill food cart at Bend's Crux Fermentation Project, for four years, and Piel works as a pharmacist in Portland, but the two cider makers looked to The Dalles as their ideal location to produce their traditional dry ciders.
The production facility is on Crates Way in west The Dalles.
"If you're going to make cider you're gonna need fruit, and you're going to be in the Gorge," Piel said. "It just make sense to be in The Dalles, as it's an up and coming place." Legend has distribution to central Oregon, Eugene, and southern Oregon. Currently their ciders are on tap at Freebridge Brewery and Route 30 taproom in The Dalles. Crush Cider Café in Hood River recently ran through a keg. (Check any establishment for availability; Legend updates its tap locations on Facebook.) Hard Pressed Cider Fest on April 22 in Odell was their first chance to showcase their ciders. "Tyler pitched the idea and I was kind of hesitant, 'lots going on, baby on the way, I said,'" said Piel.
"But I twisted his arm about it," Bauman said. "And we came to Hood River and saw all the cider makers and saw how much of a community it is and how friendly it is. They said, 'There's room for growth, you're more than welcome.'"
They poured Coastal Cran (6.3 percent ABV), and the 5.5 percent POG —for pineapple, orange and guava. It starts fruity but finishes dry. They sampled wares from other makers, including Bauman's Cider of Gervais.
"It's delicious — but no relation," Tyler said.
Hard Pressed Cider Fest connected them with 2 Towns Cider, who invited Piel and Bauman to visit their facility in Corvallis.
It's indicative of the reception they have received all along. At first they thought of setting up Legend in Bend, but found the City of The Dalles far more receptive.
"The Dalles was great to work with, helping streamline things, Piel said. That extends to their neighbors. Arriving at their leased space at Crestline Construction late Friday to load up for the Cider Fest, they needed a forklift but workers had all left. Bill Ketchum, operations manager, came in after hours to open up.
"Nothing but great people there," Piel said.
Latest stories
Latest video:
Mosier oil train fire
Clips from oil train fire in Mosier, Friday, June 3, 2016. by Mark B. Gibson/The Dalles Chronicle. Enlarge