Wednesday, April 26, 2017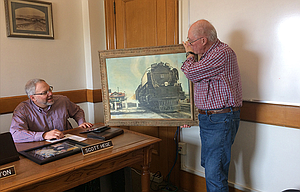 A painting that hung on the wall of the late Wilma Roberts' studio in The Dalles has been gifted to Wasco County by a friend of the artist.
The image of a train depot, painted on metal, was presented to the county commission by Anders Andersson in early April and will be displayed at the 95th annual meeting of the Wasco County Pioneers Association on Saturday, May 6.
"I couldn't hope for anything better," said Andersson after being told by chair Rod Runyon of exhibit plans at the county board's April 5 meeting.
The association gathering draws several hundred people and takes place this year at the Fort Dalles Readiness Center, 402 E. Scenic Drive.
Registration is at 9:30 a.m., lunch is at 11:30 p.m. and the program begins at 1 p.m. For more information visit www.wascocountypioneerassociation.org.
Roberts passed away in 2014 at the age of 100. Andersson told Runyon and Commissioners Steve Kramer and Scott Hege that he had purchased it from Roberts for a nickel.
He said she had tried several times to gift him with the painting but he had not wanted to take it for nothing – so she finally relented and asked for a nickel.
"I think my 5-cent investment went a long way," said Andersson, who now lives in Salem.
After holding onto the artwork for more than 10 years, he felt it should be donated and hung in a public place where community members could enjoy looking at it.
"It really belongs to The Dalles," he said.
Runyon noted after the presentation that he had worked at the downtown depot depicted in Roberts' painting. He had worked the evening shift and said two trains came through each night.
After Andersson presented the painting to Hege, who accepted it on behalf of the board, local radio personality Rodger Nichols handed him a nickel to repay his purchase price.
More like this story
Latest stories
Latest video:
Mosier oil train fire
Clips from oil train fire in Mosier, Friday, June 3, 2016. by Mark B. Gibson/The Dalles Chronicle. Enlarge