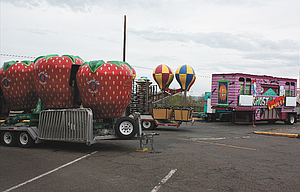 The Davis Carnival is getting ready for Friday's opening of the 2017 Northwest Cherry Festival, trucking in folded rides from their Tygh Valley base to the carnival site on First Street in The Dalles.
This year's festival parade on Saturday will feature an an extended parade route, the chamber announced Wednesday.
"We heard from businesses on the east end of the parade route that they would like the route expanded to encompass their businesses," said Lisa Farquharson of The Dalles Area Chamber of Commerce. Working with the city of The Dalles, the chamber was able to extend the route an additional block: The parade will now travel east to Monroe Street before looping back onto Second Street and returning west.
"We took into consideration the streets, lots and side roads that are being used for the festival, and signage for incoming traffic east of the round-about. We want to give an unsuspecting guest enough time to react to the closure and an appropriate route to turn around," she said.
More like this story
Latest stories
Latest video:
Mosier oil train fire
Clips from oil train fire in Mosier, Friday, June 3, 2016. by Mark B. Gibson/The Dalles Chronicle. Enlarge