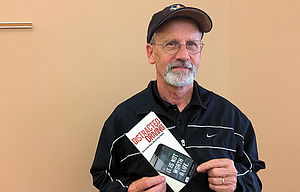 Spurred by the death of a family friend because of a distracted driver, Larry Fairclo has started a campaign to raise awareness about the problem. His first stop? The Northwest Cherry Festival Parade.
Fairclo has an entry in the parade, which begins Saturday at 10 a.m., and it's a wrecked vehicle, which will be towed on a trailer by River's Edge Towing. Around it will be posters showing the final texts seen by people who were killed reading them while driving.
"These are the last texts people read before they died. It's pretty powerful," Fairclo said. They're such mundane things as "LOL" and "Where you at?"
Fairclo is looking for helpers to hold signs and pass out flyers. Those interested can call him at 541-993-2488.
Fairclo owns the Diamond D Driving School, a driver's education business in The Dalles. Every day, he sees five to six drivers on their cellphones.
Once, on the sweeping curve heading to the Discovery Center, he and a student pulled over because an oncoming driver was looking down, likely at her phone, the entire time she drove through the curve.
On June 24, 2015, Anna Wichman, who had been Fairclo's son's girlfriend for several years, was in the back seat of a car heading to Washougal on Highway 14. A hay truck in the oncoming lane was stopped, waiting to turn left after her vehicle passed. But a 91-year-old driver following the hay truck didn't see that it had stopped, and he swerved into the oncoming lane to avoid it, plowing into the 2015 Kia Wichman was riding in.
The two people in front survived. Anna and the other backseat passenger were killed, despite wearing seatbelts. The 91-year-old man later died.
One of the posters in the parade will feature a photo of Anna, and it will be carried by Fairclo's family.
Fairclo said everyone wants to blame the driver because he was 91, but he sees distracted driving daily.
He will also have a booth at the Cherry Festival. The Oregon Department of Transportation sent him over 650 flyers to hand out to people. "they've been really helpful."
The campaign urges people to keep "eyes on the road. Not on your phone."
On May 13, the day before Mother's Day, Fairclo hopes to recruit up to 100 people to stand at every street corner in downtown on Second and Third streets and hold signs with the last texts that drivers read before they were killed.
They will meet at the parking lot by the roundabout to pick up their signs at 1:45, and then will spend 90 minutes downtown.
"These are impactful. I'm telling people this is a serious message with a serious presentation," he said.
A new The Dalles company, Immense Imagery, will be videotaping the event, including with a drone.
He is referring people to the online campaign, itcanwait.com, which has tools for parents, including a phone app that will automatically answer calls while a person is driving and leave a message saying the person is busy driving and will call later.
The app can also tell parents if the app was turned off while their child is driving. Fairclo admits he's been a distracted driver himself.
"We've all done this, but it's a certain point where you have to say, 'I'm not doing this anymore.'"
He said parents need to model safe driving behavior for their kids.
Even talking on a hands-free phone is a distraction, he said. "they're talking but they're thinking someplace else."
A third prong of his awareness campaign will be a billboard donated by Meadow Outdoor Advertising that will carry an anti-distraction message.
"What I like about the billboard is people drive by that every day and it's a continuous message that imprints on people's brain," he said.
More like this story
Latest stories
Latest video:
Mosier oil train fire
Clips from oil train fire in Mosier, Friday, June 3, 2016. by Mark B. Gibson/The Dalles Chronicle. Enlarge