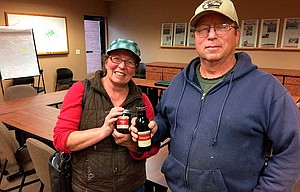 Mary Leighton said she plans to dress up for her role as this year's Cherry Festival Queen Anne, but her brother, Chuck Sandoz, named King Bing, said, "I'm not."
The duo came into town for an interview the other day, taking a brief break from working at Sandoz Farm, a Mill Creek operation that's been in the family since 1880.
Asked how they got selected for this year's royalty, Sandoz said, "I treat it like it's jury duty. You kind of get called sooner or later."
Their duties start with attending the coronation of Little Mr. Royal Andy and Little Miss Royal Anne at the Cherry Festival breakfast Saturday, April 22 at the Mid-Columbia Senior Center.
Sandoz notes Sandoz Farm has been donating eggs for the event for the last several years.
Then it's on to the Cherry Festival Parade later that day. "We're going to ride in a fancier car than any of us has owned," Leighton said.
Sandoz piped up, saying, "If the military is going to be there with a Bradley fighting vehicle I want to be in that."
At any rate, regardless of the vehicle, the Sandozes already have their own parade wave down pat. Years ago, for reasons nobody can remember, their brother, Ted, was working at the farm one day and suddenly gave his brother Chuck a funny wave, holding out his hand limply and shaking it. It became a thing, and now it's how they wave to each other.
Leighton said she's excited for this year's Cherry Festival because the cherries are actually in bloom, for a change. For the last several years, the season has been so early that the bloom is done when the festival arrives.
Usually, the festival seems to happen "the weekend right after the end of blossom," Sandoz said.
It's a busy time of year for farmers, Leighton said, and Sandoz Farm has a number of enterprises afoot.
"We love the cherries of course. At Sandoz Farm that goes into the history for us," Leighton said. The farm has 100 acres of cherries, and has had fruit trees for 100 years.
The cherry orchard operation is managed by a cousin, Dan Sandoz.
The duties of royalty are minimal, she said, and she's grateful, since this is a busy time of year.
While cherries are their permanent fruit tree product, Sandoz Farm grows a variety of fruits and vegetables, and, since 1950, has grown USDA beef. They grow apples, peaches, prunes.
Sandoz is hopeful for good outcomes in the garden this year. "Hopefully we'll have apricots this year because over the last two years – nothing."
Another year, in late May, a bitter frost settled in the valley and killed 400 tomato plants, a major crop of theirs.
While her title is Queen Anne, Leighton noted that the Queen Anne cherry – used to make maraschino cherries -- isn't grown much around here anymore. Rather, the dark cherries more suitable for the fresh market are dominant.
More like this story
Latest stories
Latest video:
Mosier oil train fire
Clips from oil train fire in Mosier, Friday, June 3, 2016. by Mark B. Gibson/The Dalles Chronicle. Enlarge