Wednesday, April 19, 2017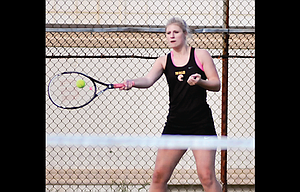 The Dalles posted two easy wins at No. 1 and No. 2 singles, but ended up losing two matches in third-set match-breakers, as Hood River Valley swept doubles play to move ahead for a 6-2 league victory Tuesday in a league match played at Hood River High School.
"It was a tough loss for us because, again, we had two very close matches that did not go our way," said TD head coach Debby Jones. "They came through in those tiebreakers."
Robin Pashek tripped up HRV's Montsie Garrido by a 7-5, 6-3 tally in their No. 1 singles match, and Kiana Pielli made quick work of Nikki Paulus in a No. 2 contest, 6-1, 6-2.
"Kiana has had some lopsided wins recently, but it is not due to the weaknesses of her opponents. She's just playing that well," Jones said. "Kiana plays a unique singles game, where her objective is to get to the net as soon as possible. It's not a style seen by most of the singles players and she is just giving opponents fits."
Kirby Joseph picked up a No. 3 singles win, 6-0, 6-2 against TD's Jocelyn Hernandez, and Yasmeen Ziada evened the singles slate with a 6-2, 6-1 romp against TD's Yahaira Alvarez at No. 4 singles.
TD had its first match-breaker loss at No. 1 doubles, with Abby Minnick and Ellie Trujillo matching up against Crystal and America Flores.
Minnick and Trujillo won the opener, 7-6, but the Flores duo added a 7-5 winner to send this contest into the third set.
The Hood River team did not let up, however, finally dispatching of Minnick and Trujillo, by a 10-2 margin.
At No. 3 doubles, Natalie Varland and Lupita Contreras lost their first set, 6-7, to Hood River's Kayla Green and Alivea Harsanyi, but battled back for a 6-1 second-set winner to set up a crucial third set.
Green and Harsanyi cruised from there, 10-1 to pull off the win.
Hood River's No. 2 team of Bianca Badillo and Claire Oswald defeated Cassie Vazquez and Maggie Corey by scores of 6-1, 7-5, and the No. 4 duo of Sally Evans and Kali Wetherell motored for a 6-1, 6-1 victory against TD's Jessica Vega and Liz Leon.
"I felt great about the play of our No. 1 and No. 3 doubles," Jones said. "Both teams were down decisively at one point in their match and came back to make it a nailbiter."
The Dalles hosts Hermiston at 4 p.m. on Thursday
More like this story
Latest stories
Latest video:
Mosier oil train fire
Clips from oil train fire in Mosier, Friday, June 3, 2016. by Mark B. Gibson/The Dalles Chronicle. Enlarge