Wednesday, April 19, 2017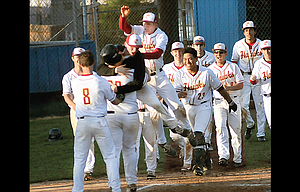 Pendleton entered Tuesday's Columbia River Conference baseball tussle needing a win to take a four-game series against The Dalles.
Big Country Henry Lee had the final say.
Lee capped a six-run bottom of the sixth inning with a walk-off, two-run home run to left centerfield to give the Riverhawks a 17-7 victory over the Buckaroos in a league contest played at Bob Williams Field.
"This was a really big game for us. After losing two games Saturday against Pendleton, we were playing for our playoff lives," Lee said. "I was really proud of my team. We came out swinging it good. We got six runs in the second inning and then kept on rolling. Once one guy got us started, we kept our bats going. It got Pendleton down and gave us confidence. We then just shut her down."
Before Lee's heroics, Pendleton jumped ahead by a 2-0 margin through one inning, until The Dalles opened things up for good with six runs in the home half of the second.
Through the early parts of the game, The Dalles head coach Steve Sugg admitted that there was a sense of uneasiness, given how his team started pre-game warmups, especially in a critical league matchup.
"I was just telling the kids in the huddle that I was real worried," Sugg said. "Our warmups were terrible. We were kicking the ball around and there was no life in the dugout. I told them that we were fighting for our lives today, so I was a little worried to tell you the truth. But, the kids came through today."
Jose Gonzalez and Johnny Miller drove in two runs apiece, and both Dawson Hoffman and Lee followed with RBI singles to swell the Hawk lead to 6-2.
In the fourth, Miller had an RBI single, Tyler Westin hammered a two-run double, and Preston Klindt added an RBI groundout to give TD a 10-3 advantage.
The Hawks added a single run in the fifth frame, but the Buckaroos made things interesting with a four-run top of the sixth to inch to within an 11-7 deficit.
Gonzalez had an RBI single to start the sixth-inning onslaught, Daniel peters drove in another run and Hoffman rifled a two-run double to left centerfield to extend the Hawk lead to 15-7, setting up Lee's game-winner.
For the game, Gonzalez finished 3 for 3 with a walk, four runs scored and three RBIs, ending up a home run shy of hitting for the cycle.
Miller was 3 for 4 with three runs and three RBIs, Hoffman and Lee added two hits, two runs and three RBIs apiece.
Dalles Seufalemua went 2 for 3 with a run, and Westin had a hit, a walk and two RBIs.
Gonzalez tossed 3 1/3 innings of four-hit ball with five walks, two intentional, and two strikeouts for the winning decision.
Jordan Wetmore pitched two innings of relief and allowed two hits and struck out three batters, and Lee retired the final two batters in the sixth to give his team a chance at the late win.
"Jose Gonzalez, there are not enough great things to say about him. He had a great day today. He threw on the mound and had an outstanding game for us and did his job offensively. That kid is going to be a player," Sugg said. "Jordan struggled on Saturday, but I told him that I still believed in him. He kept them off-balanced enough with his slider and curveball and allowed us to keep this lead."
Pendleton (6-10 overall, 2-1 league) managed eight hits for the game, as Wyatt Morris led the way with three hits, two runs and an RBI.
Shaw Jerome was 2 for 4 with a run, and Dan Naughton added a 1 for 3 split with three RBIs.
No. 3 hitter Nick Bower was issued four walks, two intentional, and scored twice.
The Dalles (7-9, 1-2) hosts Hermiston (7-9, 1-2) for a doubleheader starting at noon Saturday in The Dalles.
More like this story
Latest stories
Latest video:
Mosier oil train fire
Clips from oil train fire in Mosier, Friday, June 3, 2016. by Mark B. Gibson/The Dalles Chronicle. Enlarge