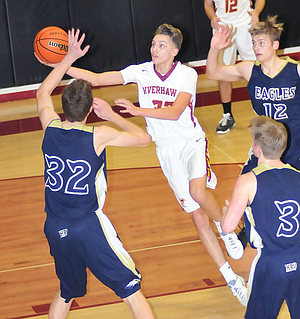 As the driving force and the inspirational figure on The Dalles boys' basketball team, Dakota Murr helped his team make a jump up into the 5A state playoffs, an accomplishment not achieved by the program since the 2011-2012 season.
With his all-around play and scoring touch, Murr was named to the 5A all-state team as an honorable mention pick determined by a vote of the state's coaches.
"It's a great honor getting all-state," Murr said. "It's a recognition for me and for the school, as well as the community because The Dalles never gets recognition for sports because we're a smaller school."
As a first-team all-league winner in his sophomore season, Murr averaged 20.4 points, 5.6 rebounds, and 2.4 assists per game, while connecting on 41.5 percent on three-pointers, and an efficient 86.6 percent from the free throw line.
This past season, as a junior, Murr tallied 26 points per game and added nearly 10 rebounds in Columbia River Conference action, including a 53-point, 15-rebound explosion in a 75-68 road victory against Hood River Valley.
On three occasions, Murr scored 30 points or more and he notched 39.6 points a game in three games against Hood River Valley, adding double figures in all nine league matchups.
While the regular season spans from late November until March, Murr spends all year perfecting his craft with various coaches and playing on AAU teams in tournaments across the Pacific Northwest.
It is through playing against elite talent and spending extra time in the gymnasium that has helped Murr vault his game to a higher level.
TD head coach Nathan Morris feels like the best is yet to come for his 6-foot-1-inch sharpshooter.
"I really hope he isn't satisfied with that accomplishment," Morris said. "Right now, he is only scratching the surface of his potential for himself and for the Riverhawks. I truly think with some dedication in the weight room, Dakota can be a first-team talent next year that college coaches will be clamoring for. I can't wait to see what Dakota's senior year holds for the team."
Murr offered thanks to everyone who has helped him and for those who have supported him and played influential roles in his life.
"I can't thank the coaches enough too," Murr said. "Everyone on the team, they are my brothers, who help me past everything. Without them, I'm nothing. It's been a great year for sports in The Dalles and I believe it will be an even better year next year."
More like this story
Latest stories
Latest video:
Mosier oil train fire
Clips from oil train fire in Mosier, Friday, June 3, 2016. by Mark B. Gibson/The Dalles Chronicle. Enlarge