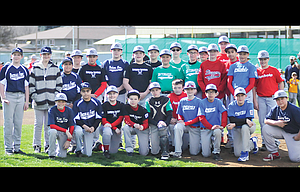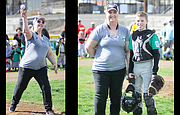 For the past few years, Tammy Richman vowed to hang up her concessions apron for good.
But, there are several forces pulling and tugging her back. Whether it's the sounds of kids chattering, the cheering fans or the smell of the grass, the small rewards she receives from everyone who crosses her path makes it all worthwhile.
Richman received recognition from The Dalles Little League board members for her 15 years of volunteerism and broke the seal on the 2017 campaign by throwing out the first pitch.
Moments after she hurled her pitch to catcher Ian Preston, Richman had a chance to soak it all in, adding heartfelt thoughts on the event itself, and the profound effect the league has had on her and her family.
"I am very honored to be recognized by everyone in the program. It means so much. It is very touching," Richman said. "But, winning awards and being in the spotlight is not the reason why I am here every day. I just hope to make a difference. If I can do that, I know all the time spent here was for a good cause."
Richman not only volunteers her time as concessions manager and board member at TDLL, but she is actively involved in the Boys and Girls Scouts Organizations.
She spends several evenings each week at the field during the season and turns in countless hours shopping and prepping for the weekend games.
Thoughts and ideas of improving the concession stand and making it more affordable always leap to the forefront.
As the league's biggest fundraiser, the concession stand plays a pivotal role in so many ways.
"I have always enjoyed watching the kids come and get their snow cones and the look on their faces," Richman said. "I don't know everybody's name or anything, but watching their smiles makes my day. That is the biggest thing. When I see a kid sad, my goal is to make them happy. Whatever it takes. Whether it is a free snow cone or whatever is, we want them happy with their little league experience."
From its humble beginnings to the perfecting of a Majors field with lights and adding some extra improvements in different areas, TDLL has been the breeding ground to a long list of standout baseball players, who have developed a love for the game.
"When kids come here, they learn the value of friendships. They can make a lot of friends. There are a lot of kids out there that need that interaction," Richman added. "I would encourage any kid that has friends to involve them or try to involve them, because sometimes, all they have is sports."
More than wins and losses, attaining life skills, building friendships, exhibiting good sportsmanship and having fun are qualities TDLL president Kelly DeLeon wants to highlight.
She lived and breathed athletics as a child under her father and coach, Phil Hukari.
DeLeon wants to provide those same positive experiences to the youths of the Gorge.
"I think all of the important life lessons, the baseball field or the court is where I learned them," DeLeon said. "It is not just about the skills of baseball, but it is about how to survive, be part of a team, how to interact with other people and how to find small successes in big disappointments. All those lessons, baseball, basketball and the other sports is a great platform to learn those."
This year marked the biggest player turnout in the T-Ball division, rising from eight last year to 12 this season, with eight or nine kids per roster.
In addition, there are eight Coach-Pitch teams, six Minors teams, and five Majors teams for 331 total in the program.
Not a bad number, considering how many 12-year-olds graduated from little league in 2016.
DeLeon said it is inspiring to see community members involved and sacrificing so much for the youths.
"We have some great coaches that are going to push them and they are really going to make major improvements in the kids' level of play, as they always do," DeLeon said. "We have some amazing returning athletes this year that are going to push their teammates and they are all going to strive to get better and better."
As she prepares for her final campaign, Richman expressed a level of pride in knowing she had a positive impact on the community.
It is important that her example leads to more families and individuals donating their time to the cause.
"Volunteering is a great experience," Richman said. "Without the volunteers, this entire organization wouldn't work. It is very tough. I have been there and watched people not want to step up. I would say to everyone to step up and volunteer. This is for the kids. It is not for you, it's for them. That's how important it is for me. If we don't have this, who knows what happens to them."
For updates and additional news or to volunteer, log on to www.eteamz.com/tdll.
More like this story
Latest stories
Latest video:
Mosier oil train fire
Clips from oil train fire in Mosier, Friday, June 3, 2016. by Mark B. Gibson/The Dalles Chronicle. Enlarge