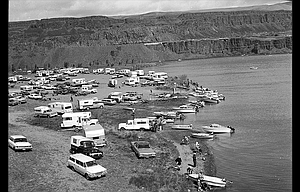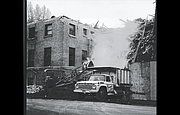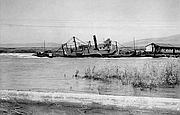 20 years ago – 1997
Pavement collapse isn't imminent at The Dalles airport, but rigorous testing found some "very weak" areas. Those areas are now marked by traffic cones, to keep planes from crossing them.
They may be God's work, but Larry Riter provides the loving hands that make The Dalles Post Office flowers bloom each year with riotous color. For the past five years, bringing color to the drab, gray institutional building has been Riter's quest.
The Dalles will strongly pursue a partnership with Klickitat County in helping pay for the municipal airport.
40 years ago – 1977
All nine school districts in Wasco County will be voting on operations tax levies on Wednesday, 8 a.m. to 8 p.m.
"Please, please, don't be a litterbug," an anti-litter campaign of a few years ago asked. Deputies from the Wasco County sheriff's office may not be asking that nicely in the future as that office seeks to stem a tide of littering throughout the county. Their target will be the people who are dumping garbage on private property at several areas.
60 years ago – 1957
The Dalles population is up 46.6 per cent since 1950 for an estimated total of 11,250, according to current population estimate figures released today by the Oregon State Census Board.
Those having old wooden sheds on their property should either get rid of them or make them more fireproof, Fire Chief Charles Roth has requested in letters mailed out today. Roth said the letters were sent to help prevent further fires occurring in structures used to keep wood and other miscellaneous materials. The fire department has had a rash of "set" fires recently in such outbuildings.
Jury Indicts Williams, Schrunk: PORTLAND (UP) – Oregon Journal reporter Arthur Bradley Williams surrendered in Circuit Court today to a warrant charging him with violating Oregon's wire tap laws. The charge was contained in a Multnomah county grand jury indictment similar to one against Mayor Terry D. Schrunk.
80 years ago – 1937
The Dalles lost one of its most active civic boosters this morning when James Everett Thorndike, well-known cherry orchardist, died at his home here, 1200 Bluff street, following an illness of several months duration. Since making The Dalles his permanent place of residence about 10 years ago, he had been a director of the chamber of commerce and took a special interest in the development of local water resources for irrigation.
The Dalles Men's chorus, now in its third year as a community cultural project, again will appear in public concert next Monday night at the civic auditorium. Only a few towns on the Pacific coast have male choruses with as large a membership as The Dalles group.
PORTLAND, April 16. (UP) – When pickets from the Metal Trades Council picketed his shop with banners calling it "unfair to organized labor," Collis Johnson, general manager of the Willamette-Hyster company, joined them. He wore a cardboard "sandwich sign," labelled "Metal Trades Council is unfair to the management."
100 years ago – 1917
Despite the fact wintry weather chilled local citizens yesterday and rain further dampened their spirits, a large crowd attended the flag-raising ceremonies at the depot grounds yesterday at noon. The O.-W. R. & N. company had erected and painted a pole which extends 72 feet above the ground, for which the Chamber of Commerce purchased a flag, 12 by 22 feet. Mayor J. E. Anderson, on behalf of The Dalles, graciously accepted the flag, and thanked the railroad company for the gift of the pole.
REVELATIONS OF GERMAN PLOTS – Bureau Of Public information Is Created To Inform Public. – WASHINTGON, April 16 (UP) – Sensational ramifications of German secret service activities in the United States may be laid before the people soon. The creation of a bureau of public information signalized the growing sentiment among administration heads to take the people as completely into confidence as possible.
By Charles P. Stewart (United Press Staff Correspondent): BUENOS AIRES, April 16. – Argentine seethed with war and anti-war demonstrations today. In Buenos Aires, pacifists, in a well organized group, had a pitched battle with pro-war advocates and won. It was a fiercely fought melee for a short time.
More like this story
Latest stories
Latest video:
Mosier oil train fire
Clips from oil train fire in Mosier, Friday, June 3, 2016. by Mark B. Gibson/The Dalles Chronicle. Enlarge