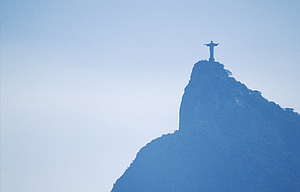 Easter Sunday typically finds church pews full of people who come out to celebrate the resurrection of Jesus from the dead, a central component of the Christian faith.
Although religion remains an integral part of many Americans' lives, and the dominance of Christianity still prevails, the way people look at faith is changing with the times.
In a recent Rasmussen poll, 75 percent of respondents thought it was appropriate to have the president place his hand on the Bible when taking the oath of office. That tradition dates back to President George Washington.
However, only 56 percent of Americans surveyed in a poll taken by Gallup in December said they were members of a church, synagogue or mosque. That figure has been decreasing since Gallup first asked the question in 1937.
There is also an increase in the number of people who say they don't have a formal religious identity, which now stands at 21 percent in the Gallup poll, up six percentage points from 2008.
Over seven in 10 of Gallup's 173,229 respondents said religion is losing its influence in U.S. society.
When the research firm began regularly measuring religious identity in the late 1940s and 1950s, more than nine out of 10 American adults identified as Christian —Protestant or Catholic — with most of the rest saying they were Jewish.
In the most recent poll, 48.9 percent of respondents said they were Protestant, 23 percent Catholic, 1.8 percent Mormon, 2.1 percent Jewish and 0.8 percent Muslim. Atheists and agnostics made up 18.2 percent and other non-Christian religions 2.5 percent. Slightly over 2 percent of those polled did not give a response.
Along with the rise in the religiously unaffiliated, there has been a corresponding increase in the number of atheists.
Between 2007 and 2014 the Pew Research Center found a 3 percent increase in atheists/ agnostics among adults, a number that doubled among the 35,000 respondents.
Atheists, in general, are more likely to be younger males, who tend to be aligned with political liberalism, according to Pew. They are more likely to be white (78 percent) and highly educated, with 43 percent holding a college degree, compared to 27 percent of the general public.
Although the literal definition of "atheist" in the Merriam-Webster dictionary is a person who does not believe in the existence of God or any gods, 8 percent of those who call themselves atheists also say they believe in God or a universal spirit. Unsurprisingly, more than nine out of 10 self-identified atheists said religion was not too, or not at all, important in their lives and nearly all (97 percent) said they seldom or never pray.
However, many said they did not feel like they were lacking anything. Three out of 10 (31 percent) said they felt a deep sense of spiritual peace and well-being at least weekly. A similar share (35 percent) said they thought often about the meaning and purpose of life.
Roughly half of all atheists (54 percent) said they frequently felt a deep sense of wonder about the universe, up from 37 percent in 2007. Fewer Christians in the study (45 percent) said they felt a sense of wonder.

The data collected by Pew shows that half of Americans (53 percent) said it is not necessary to believe in God to be moral, while 45 percent say belief in God is necessary for a person to have good values.
Gallup also found that religiosity in 2016 correlated with partisan identification. Slightly more than half of Republicans considered themselves "highly religious" compared with a third of independents and Democrats.
The connection between religion and politics manifested itself in the 2016 presidential election. Exit poll data showed that among those who reported attending religious services weekly, 55 percent voted for Trump and 41 percent for Hillary Clinton. Among those who never attend religious services, 62 percent voted for Clinton and 30 percent for Trump.
Pollsters are uncertain whether the perception that religion is losing influence in society is a short-term phenomenon or a lasting pattern.
Oregon already ranks as one of the least religious states in the nation, with 29 percent of Gallup respondents in 2015 saying they were "very religious," compared with 45 percent who said they were "nonreligious." In the state, 26 percent of respondents identified as "moderately religious."
If the current pattern continues, churches could find themselves much less well-attended for Easter and Christmas services — the two observances that traditionally have drawn more people — as well as the remainder of the year.
Less people means less tithing and a new study may be needed to determine whether, with the decline in church attendance, there is also a reduction in outreach services.
More like this story
Latest stories
Latest video:
Mosier oil train fire
Clips from oil train fire in Mosier, Friday, June 3, 2016. by Mark B. Gibson/The Dalles Chronicle. Enlarge