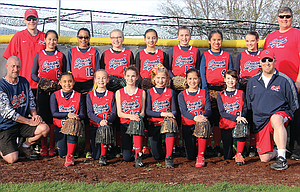 Last spring, the Cherry City Crush softball team finished its 10U campaign with an unblemished record and a state championship, facing 'C' division squads from across the Northwest.
Head coach Ryan LeBreton felt that performance opened the door for his squad of players to vault up another level, where the rules, size of the ball and dimensions are changed, and the competition much more highly-contested.
In their first tournament of the year, the 12U Crush went 1-5 at an Ice Breaker Tournament in Tri-Cities, Wash.
LeBreton and his coaching staff of Jeff Smith, Joe Abbas and David Jones at least caught a good glimpse of the strengths, weaknesses and areas this team will need to improve upon as the season progresses.
Coming off an undefeated 2016 campaign, LeBreton wanted to see how his team would face losing, which he said is a great thing for the athletes to embrace early in their careers.

"Kids need to learn to lose with class," LeBreton said. "We don't have to accept losing, but we have to learn from it and use it to get better. There will be some bumps in the road this year, but the ferocity with which my players practice and compete will probably have us growing as a team and building for the future."
LeBreton fields a roster of 13 players; eight are returning state champions from the 10U group, and the trio of Alicia Anderson, Naomi Heredia and Ella Smith are experienced veterans coming back for another round of 12U play.
"Ella, Naomi and Alicia bring a wealth of 12U experience and leadership to our team, which is always welcome for any coach," LeBreton said. "Ella will be pitching, Naomi brings speed and power to our lineup with a utility player mentality, who can play any position on the field. Alicia is returning as a first baseman and she has quick bat speed and is steadily showing herself to be a great outfielder."
While there are players with championship pedigree on the team, as well as athletes with years of tournament action under their belts, the new recruits, Dominique Mausolf and Sierra Faulkner, have come into camp with high energy and a passion for the game.
"In the three weeks we have been practicing, Sierra's form and fundamentals in throwing, fielding and hitting have improved by leaps and bounds," LeBreton said. "Dominique is extremely coachable and what she lacks in mechanics, she makes up with brute strength and speed. I think she will be making huge contributions when and where we need her."
Lillian Schatz joins returning fifth grade stalwarts Amyrah Hill, Zoe LeBreton, Keiliani Crichton-Tunai, Kaleyah Crichton-Tunai, Jelaine Stewart, Kennedy Abbas and Ashlyn Jones.
Most of this core put up 88 runs in their final two tournaments of the season last year, including 61 in five Father's Day matchups in West Linn.
LeBreton said he is looking forward to seeing how his team swings the bats while facing a higher echelon of opposing pitchers, but he added that the Crush's aggressiveness at the plate will lend to putting balls in play and getting on base.

"In softball, it is a fast game with a lot of small ball," LeBreton said. "Offensively, we will lean on everybody to do their part in getting on base, bunting, being aggressive on the bases and timely hitting. We truly have a good nucleus of hitters, but their success will depend on the small ball execution and manufacturing runs."
In their new classification, the dimensions are on par with the high school level, as the pitching circle is moved back five feet, so LeBreton is focused on defense, especially since at the 12U level, the ball and distance increase faster than the girls' strength from one year to the next.

Even though pitching is always crucial in softball, LeBreton said that his pitching staff will not be as dominant, so if the opposition is hitting the ball, the fielders need to make the plays in a show of support.
"Having nine girls on the field who have situational awareness and can make plays will be key," LeBreton said of the program's defensive philosophy. "We need to be able to get three outs without relying on strikeouts. That is our biggest weakness, though these girls are putting in the time and we are working on the fundamentals of fielding and throwing and trying to cover all the situations that we can come up."
With having a wealth of talent and depth at every position, the pitching staff has the talent in place to get the big outs and make the big pitches when the pressure is on.
LeBreton has a top-level trio of Kennedy Abbas, Ella Smith and Ashlyn Jones, and he can also call on Schatz, Kaleyah Crichton-Tunai and Faulkner.

In her 4-0 state performance, Abbas pitched all four games and allowed seven runs on 13 hits with 45 strikeouts and 15 walks in 25 innings pitched.
Coach LeBreton said softball lives and dies in the circle with pitching, but with the new changes, pitchers lose the advantage of top speed given the five-foot difference.
"That means control and a good changeup are keys. Then they need a coach who will call the right pitches at the right time," LeBreton said. "All of my pitchers have a fastball and a changeup, which is a huge advantage for me as a coach because my goal is to keep opposing hitters off-balanced. These girls are competitors and I look forward to seeing them take the challenge in the circle this year."
The Crush made many individual and team gains, surpassed expectations and created a legacy of success.
With that, the expectations do not change, so as long as the team pitches well, limits mistakes, plays with sound fundamentals and deals with the pressures of the moments, there is no telling how much this squad can accomplish.
"For us to win, we need to play to win, instead of playing not to lose," coach LeBreton said. "Too many kids, in too many programs, play not to lose and our girls are going to go out there to win."
The Crush (1-5 overall) hits the diamond for a two-day tournament slated for April 29-30 in Selah, Wash.
More like this story
Latest stories
Latest video:
Mosier oil train fire
Clips from oil train fire in Mosier, Friday, June 3, 2016. by Mark B. Gibson/The Dalles Chronicle. Enlarge