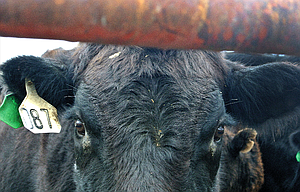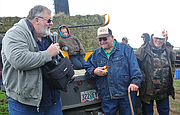 While green wheat shoots shivered on the sunny slopes outside of The Dalles, the Tygh Valley Fairgrounds swarmed with a denim- and boot-clad crowd enjoying coffee and doughnuts.
Around dawn on April 7, over 175 people boarded school buses or climbed into their own vehicles to tour four ranches on the 59th Bull Tour.
Co-sponsored by the Oregon State University Extension Service and the North Central Livestock Association, the annual event is an opportunity for ranchers and farmers to discuss agricultural practices and conservation measures they are taking to ensure good stewardship of the land.
The family-friendly tour is also a time for neighbors to catch up and for the curious to learn about the land and people around them.
"In 1988, we changed from a more social to an educational tour," said Sandy Macnab, a recently retired Wasco and Sherman County extension agent who has personally helped stage 26 bull tours.
Proceeds from registration fees and sponsorships fund educational scholarships, added NCLA member Leo Baptiste, owner of Rising B, one of dozens of tour sponsors. Each stop featured a guest speaker, a talk by the fourth- or sixth-generation rancher and a raffle drawing.
As the procession, up from 100 last year, of trucks, buses and one trailered port-a-potty snaked out of Tygh Valley, the wind picked up and tumble weeds exceeded the speed limit on the road to the first stop, the Ashley Ranch. Standing in front of a back-drop of penned cattle and bulls, owners Vicki and Larry Ashley gave the lowdown on the highs and lows and the ins and outs, of breeding, raising, caring for and marketing livestock.
As a token of appreciation, Macnab presented Larry with a "bull-chipper," a whimsical device that does not mince words, along with directions not easily explained in print.
The next stop was Warnock Ranch, and in gusts that threatened to knock people off their feet owners Randy and Jerod Warnock demonstrated a hydraulic squeeze shoot, which is used to contain cattle for branding, tagging, castrations and inoculation.
Proceeding on through Shaniko and Antelope the tour stopped at Eagle Valley Ranch. Shayne Gomes spoke about being a fourth-generation rancher while wind screamed through the railing that corralled the bulls behind him.
When he was finished talking about his family-run business, tour members retreated inside an impeccably organized shop to enjoy a hot lunch served by Cobblestone Catering. The meal ended with talks by extension agent Scott Duggan and Carolyn Wood, who provided information on the Century Farms of South Wasco County.
The last stop, Forman Ranch in Shaniko, featured owners Lowel and Mary Forman, who discussed haying, cattle rotation and juniper logging on their property, followed by Aimee Bell and Ed Thomas from Wasco County Farm Service Agency.
By late afternoon, tumble weeds still trailed the tour that ended with a Tri-tip dinner and music by Jager Bumz! in the same Tygh Valley Fairground building where it started.
The landscape the 59th Bull Tour traveled that day and the people whose livelihoods depend on a strong work ethic and responsible land management is summed up in a paragraph in Art Labrousse's book "Elected Through Terror: The Rajneesh through the eyes of a local sheriff" (available at Klindts Bookstore).
It is a factual account of the mid-1980's when Labouse served as Wasco County Sheriff, during an era infamous for a different breed stalking the rangeland.

His writing stated: "I have always admired the fortitude and strength of those that live off the land. They work hard. They get their hands dirty. They speak their minds and for the most part, they are real people with no phoniness.
"They contribute to the community and endure when many other businessmen would close up shop."
That's no bull.
More like this story
Latest stories
Latest video:
Mosier oil train fire
Clips from oil train fire in Mosier, Friday, June 3, 2016. by Mark B. Gibson/The Dalles Chronicle. Enlarge