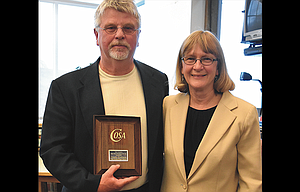 The Dalles High School Principal Nick Nelson was named the Oregon High School Principal of the Year Thursday, at a school board meeting attended by numerous people who kept news of his prestigious award a secret.
Reacting with visible shock to the announcement by a representative of the Confederation of Oregon School Administrators (COSA), Nelson received a standing ovation from the audience, which included community leaders and school staff.
He became too emotional to speak as he began thanking his colleagues.
Kris Olsen, co-director of professional learning for COSA, said the decision to make the award to Nelson was unanimous, and that he now moved on for consideration as national high school principal of the year.
Olsen said the award not only recognized that Nelson had dedicated his career to children in The Dalles, but also recognized the results achieved at the high school on his watch.
Nelson has helmed the high school during a time that has seen a steady increase in graduation rates, including an incredible 14.9 percentage-point jump in the graduation rate last year, which reached 83.2 percent.
District Superintendent Candy Armstrong told Nelson, "You deserve this," then added, since both are alums of same class of The Dalles High School, "TDHS class of 1969 rocks!"
Armstrong said she nominated Nelson for the award, but it took the help of staff to assemble the needed documentation. "I knew you were deserving of it but unless somebody gets behind it and puts the application together, nobody knows it. Now they all know it."
Later, Nelson said he was surprised to see his wife at the meeting, and when he saw his sister and her kids, "I knew something was up."
Armstrong said Nelson is humble, and true to form, he said after the meeting, "It's not me that earned this, it's our staff. It's Mike [Somnis, vice principal] and Kurt [Evans, vice principal] and office personnel. It's their recognition and work, not mine. It sounds like a cliché, but I know reality. This is their award. I'll accept it, but it's their award."
Nelson said it was an award not just for the high school, but the district. "All the administrators and teachers, they feed up to us; they have to do their job so we can do our job."
Prodded to think of some personal attribute that might have earned him the award, he said, "I think the only thing that's me is the fact of being there – being in the building, being visible with staff and students. Some people can hole up, or get holed up with the details of their job."
He lauded support staff, counselors and teachers. "You can't do the job without everybody's help."
He said he never seeks plaudits. "I don't even think about that. I honestly don't. I see what Kurt does, I see what Mike does. I see what the teachers do and the countless hours they put in and the work they do. I'm very appreciative of them."
He said he was very grateful to the community leaders who showed up to see him get the award.
Armstrong said Nelson is "very good at what he does. He's very thorough, highly intelligent, very ethical. He's highly loyal to his staff.
"He wants all students to achieve," she said. "He does not let it go. He puts in a phenomenal amount of hours to do that. He makes careful changes; he's constantly reading the research, he can quote it."
Armstrong said, "He takes whatever is given him very seriously. If that is his charge, that is what is going to get done."
While the district has seen success with new programs in the elementary grades, the students benefitting from them are still years away from the high school.
The graduation-rate gains made at the high school were done without that cohort of students, she said.
It's not magic, she said, "It's a lot of tremendously hard work. He's got that charisma; his staff know he cares deeply about supporting their efforts and about each person personally. He knows about them and about their families. He's very compassionate."
Armstrong said when the last principal left, Nelson, then the vice principal, hesitated to apply for the top job.
Armstrong encouraged him, saying, "Nick, you're made for it."
More like this story
Latest stories
Latest video:
Mosier oil train fire
Clips from oil train fire in Mosier, Friday, June 3, 2016. by Mark B. Gibson/The Dalles Chronicle. Enlarge