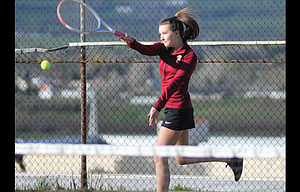 Yahaira Alvarez picked up a huge No. 4 singles win to help The Dalles girls' tennis team pull to a 4-4 draw in a league match Thursday at The Dalles High School.
Alvarez needed three sets and stormed back after losing the opening set 4-6 to Bethany Flanagan.
Alvarez rebounded for a 7-5 second-set victory to set up a match-breaker round, where she came out on top by a 10-6 margin.
"Yahaira came up with a big come-from-behind win to draw the match even," said TD head coach Debby Jones. "It was her best win of the season."
Robin Pashek and Kiana Pielli also pounded out singles wins to match Alvarez's efforts, with Pashek working for three sets to come out ahead.
Pashek lost her opening set by a 4-6 score to Pendleton's Jenna Senter, but then hit for a 6-2 win and closed matters out with a dominate 10-3 match-breaker tally.
"Robin lost her first set of the season, but was not going to be denied," Jones said. "Her opponent did everything she could to throw Robin off her game, even sneaking an underhand serve in here and there. Robin has a great physical game and is on her way to capturing the mental side to complete the whole package."
While Pashek had to work overtime to notch her triumph, Pielli hardly broke a sweat in her No. 2 singles match, cruising to a 6-0, 6-0 triumph against Brandy Brown.
In her seventh match of the season, Pielli kept her unblemished record intact with one of her most impressive performances to date.
"Kiana was in beast mode today," Jones said. "Her opponent was a quality player, but Kiana, time and time again, slammed the door shut any time her opponent attempted any type of comeback."
At No. 3 singles, Abby Williams scored the Buckaroos' lone win, a 6-4, 6-3 win over Jocelyn Hernandez.
Both teams split four doubles matches, as Abby Minnick and Ellie Trujillo gave the Hawks a No. 1 victory in two sets against Jessie Patterson and Maureen Davies, by final margins of 6-2 and 6-4.
"Abby and Ellie continue to impress me," Jones said. "They played one of their best matches of the season. They both are beginning to feel more comfortable at the net and the results are very positive."
The Dalles nearly pulled off another doubles win at No. 3 in a match that pitted Natalie Varland and Lupita Contreras opposite Brooke Lapp and Kayla Walker.
The Riverhawk duo wrapped up the first set, 6-4, but then Lapp and Walker grabbed the second set by a 7-5 score to send this showdown into a match-breaker round.
Both teams were evenly-matched through the first 16 points, tied 8-all, but the Pendleton tandem rattled off the final two points to preserve a 10-8 decision.
Denae Smith and Gabby Cuthbert secured a Pendleton win at No. 2 doubles with a 6-3, 7-5 romp against Cassie Vazquez and Maggie Corey.
Added to that, the No. 4 doubles team of Emma Florence and Maggie Scanlin came out ahead in two-set match versus TD's Jessica Vega and Liz Leon, 6-3, 6-1.
The Riverhawks host Madison today, and then head out to Hood River for a league tussle at 4 p.m. on Tuesday.
Latest stories
Latest video:
Mosier oil train fire
Clips from oil train fire in Mosier, Friday, June 3, 2016. by Mark B. Gibson/The Dalles Chronicle. Enlarge