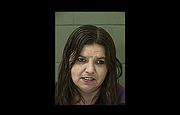 The woman accused in March of starving two horses so severely that one had to be put down was sentenced to 100 hours of community service after pleading guilty to first-degree animal neglect.
Shirley Wallace, 39, of 4943 Pleasant Ridge Rd., entered the plea Monday in Wasco County Circuit court.
Wallace was given two years of bench probation and banned from owning animals, including horses, for five years, the maximum time allowed under Oregon law. She also was ordered to pay $200 in fees and fines.
Family members she lives with have four dogs, and they can continue to live at her residence, but she is not to have anything to do with their care. The Wasco County Sheriff's Office is allowed on her property at any time to check on the dogs and ensure she has not obtained any animals.
Kim Mosiman, executive director of Sound Equine Options, the Troutdale-based horse rescue that took in the surviving horse, said she was "happy" with the sentence. "That was what I was hoping would happen."
She said Oregon has fairly good animal neglect laws, though she wishes they were tougher. "As far as what she got, it's probably almost the best that we could hope for."
"From the animal's point of view, our biggest hope is they can't own them again," she said. "That they can't do this again to another animal, that is what's important to us."
The rescued horse was named Miles, since nobody at the Wallace property claimed to know anything about the horses when they were rescued, not even their names.
"He's got quite a bit of weight to gain, but he looks so much better," she said. The horses were both at least several hundred pounds underweight, and one was lying in mud and snow when a deputy was called to the property in late February after a concerned citizen reported the animals' condition.
The deputy and others tried for several hours to get the horse to stand, but its muscles were so wasted it was unable to rise. A veterinarian was called and the decision was made to euthanize it.
The case was handled for the Wasco County District Attorney's office by a special prosecutor, Jake Kamins, who deals with animal abuse cases statewide. It is the first such position in the nation.
Kamins is a deputy district attorney based in the Benton County District Attorney's office. He said the case was "relatively straightforward" and started like a lot of his cases do, with people expressing concern on social media about an animal's welfare.
Wallace was initially charged with first-degree animal neglect and second-degree animal neglect. The first-degree charge is failure to provide minimum care that leads to serious injury or death.
The second charge was dropped as part of a plea bargain in which Wallace agreed to plead guilty to the more serious charge.
While first-degree animal neglect is a Class A misdemeanor that carries up to a year in jail, Kamins said Wallace was put on probation, meaning the sentence was essentially suspended as long as she followed laws and the specific requirements of her probation.
Jail time was not considered for several reasons, he said, including that she had no prior criminal record. Also, she is a caregiver for an elderly relative "and jail time would potentially impact the relative negatively," he said. Finally, she also took responsibility. "She pled guilty right off the bat essentially."
Kamins said he could not speak to Wallace's case, but he said, in general, when people neglect animals, he's seen a combination of lack of education about what horses require – "horses in particular are significantly more time consuming, significantly more complicated animals than say, a house cat" – and monetary issues.
He said people may not know that throughout Oregon there are organizations that help rescue horses and adopt them out to new families. "The state has such a big heart in terms of making sure our animals are treated well," he said.
Mosiman said Miles will be ready for adoption in a few months, when he is fully healthy. "He's really perked up, he's kind of a pretty lovely mover, but he's really friendly."
At his foster home, "they've been working with him on ground manners, but he is pretty darn easy to handle. I'm sure once he's up to good weight he will be adopted fairly quickly."
The rescue group checks references of anybody who seeks to adopt a horse, and they also do a site visit and check with the veterinarian they use, to ensure they provide their animals with good care.
More like this story
Latest stories
Latest video:
Mosier oil train fire
Clips from oil train fire in Mosier, Friday, June 3, 2016. by Mark B. Gibson/The Dalles Chronicle. Enlarge