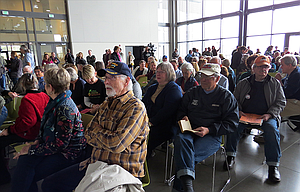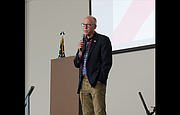 U.S. Rep. Greg Walden, R-Ore., came under fire Wednesday from angry constituents who wanted to chastise him about supporting President Donald Trump's policies, or question his support for Republican plans to overhaul federal programs, including health care and immigration.

The nearly two-hour meeting April 12 at the Fort Dalles Readiness Center drew a crowd of about 500 people. Roughly three-fourths of the audience had supported either Hillary Clinton or Bernie Sanders as presidential candidates, according to a show of hands at Walden's request. Greater hostility was evidenced later that day at another two-hour meeting at the Hood River Middle School that drew about 1,000 people.
Hood River County is the only one in the 20 of Walden's Second Congressional District that did not favor Trump. Walden makes his home in that town.
He was called a "liar" in both locations and, in Hood River, accused of supporting a "bully in the White House." He was shouted down by the audience when he attempted to explain his political viewpoint.
People in both places carried small signs that read "Answer the question," "Agree" or "Disagree" and held them up periodically. Some carried larger signs calling for free health care and making other political statements.
At times Walden called for order and the opportunity to respond to the criticisms expressed by people who frequently interrupted him.
The interruptions became numerous enough at one point in Hood River that a Walden supporter started shouting "Let him speak" and was told by a heckler to leave if he couldn't "deal with it."
"Yelling back and forth is not conducive to the conversation," said Walden, who appeared largely unruffled by the antagonism.
In a follow-up phone interview while travelling Wednesday evening to Prineville for a town hall the next day, Walden spoke about the high level of anger he encountered in Hood River and strong criticisms in The Dalles, although that forum had a much less aggressive tone.
"I think the town halls showed that vibrant democracy is alive and well, and that people have very strong opinions and thoughts about the issues we're dealing with nationally," he said.
"The town halls give people the opportunity to express themselves and an important part of my job is to listen. I try to listen and absorb — and keep what I heard in mind when we are crafting public policy."
The town halls in the Gorge were Walden's 7th and 8th in 2017 and he had four more planned for the week. Since 2012, Walden said he had held 144 town halls in the district.
He told people in Hood River and The Dalles that his offices had received 7,100 emails, letters, phone calls and mail messages since the start of the year, and 6,838 that were inquiries had been answered.
Walden was accused by audience members of not being responsive to the concerns of constituents and many said they had not heard from him. He asked that they provide staffers with their contact information so he could reach out to them.
In both locations, people chastised him for not opposing Trump's executive orders and policy plans. Walden reminded them that, while he noted their concerns, he also had to represent constituents throughout the district, many of whom held different beliefs.

He said most counties, including Wasco, had voted for Trump by a large margin.
"I've been very effective at passing bipartisan legislation and worked with presidents of both parties. But I also represent a district that's pretty conservative," said Walden.

That comment and many others received "boos" from some members of the crowd.
Despite his refusal to aaccommodate demands that he oppose Trump on immigration, border security and other key issues, Walden said he did not always agree with the president. For example, he said Trump wanted to cut funding for National Public Radio and the National Endowment for the Arts, but he disagreed.
He also felt that ICE (Immigration and Customs Enforcement) needed to focus on deporting criminal illegal aliens and not farm workers, who needed to be provided with a path to citizenship so the agricultural industry was not left in crisis.
Walden had also publicly opposed Trump's temporary ban on refugees from several Muslim-majority nations.
"Unless you are Native American, we are all immigrants," he said. "We open our arms and welcome more immigrants than anywhere else in the world and we do that legally."
Walden said it was important that the issue of having 11 to 12 million aliens in the country illegally be dealt with because the United States operated by the rule of law.
"I think we need to step up our process to process people," he said.
He supported securing the border with Mexico, which he believed was vital to national security. Although a physical wall would not work in all locations, he said some type of defense system needed to be in place.
Following chants of "no ban" and "no wall," Walden called for order in The Dalles.
"Let's be respectful of different opinions," he said. "I don't want you acting like Congress." That statement was later repeated in Hood River.
Walden also drew fire for supporting Trump's decision to bomb an airport in Syria last week after news broke out that President Bashar al-Assad had used chemical weapons to kill innocent civilians.
"I think it sent the right message and I support the president," he said.
One Hood River resident chastised Walden for supporting wars when he had not served in the armed forces and said: "You seem to be a real pro-war politician. Did you encourage your son (Anthony) to join the Marines and fight in these private wars? Seems like it has been a welfare program for military contractors."
"I think it should be an individual choice," said Walden. "If he (son) had make that choice, I would have supported him."
He said supporting the troops was a top priority, as was working to reform the Department of Veterans Affairs so that services were readily available to those who returned from war.
Walden said America had a duty to act in places where people were being persecuted and executed, and to fight the threat of Islamic terrorism.
"It doesn't mean we should have boots on the ground everywhere, we shouldn't, but countries around the world look to us for leadership and support," he said.
Numerous citizens expressed outrage over Trump's reluctance to sign to a United Nations agreement to lower greenhouse gases that contributed to global warming. They were also concerned about Republican plans to pare back regulations imposed by the Environmental Protection Agency and others.
"Will you vow to stand with us and not de-regulate everything?" asked one Hood River resident.
He also earned "boos" in The Dalles when he refused to agree to join the Citizens' Climate Lobby.
"Can you please join them and show your constituents that you really do care," asked a citizen.
"I don't know enough about it, I'm happy to look at it," said Walden. "I actually like to know what caucuses are about before I join them."
He did not agree to those demands, or others thrown his way. He said decisions made to reduce pollution or protect wildlife habitat needed to be based on peer-reviewed science that was independent of a political agenda.
"I want it to be factual, my degree is in journalism and I believe in the facts," he said.
One way to address some of the climate change concerns, he said, was to better manage national forests to reduce the number of catastrophic wildfires that are destructive and expensive to fight.
That answer, like many, was booed.
"Come on, let's do this the Oregon way and be respectful," said Walden.
Health care and immigration questions were woven throughout both sessions.

Walden called upon Gretchen Kimsey, a long-time resident of The Dalles, to open his forum in that town by reading a letter of opposition to his views.
She told Walden that, while she had once supported him, she no longer did due to his political alignment with the "alt-right" of the Republican Party.
"I feel you have abandoned me," she said. "Where are you Greg Walden? You have abandoned the middle way. You no longer represent many of your constituents. Come back to the middle."
Roger Wagner, also from The Dalles, said he had served in Vietnam while Walden had been "running around playing with a Gene Autry cap gun."
He said GOP leaders had voted 60 times to repeal the Affordable Care Act, also known as Obamacare, and sought to cut other valuable programs that benefitted working Americans so they could curry favor with corporate backers.
Walden clarified that 20 those 60 votes had been signed into law by President Barack Obama because they made needed changes.
Wagner addressed Walden's health benefits and pay in Congress, but some of his data was refuted by Walden.
He agreed that his base pay was $174,000 per year and that he received $900,000 to cover staff costs, travel expenses and maintenance of district offices.
However, Walden disagreed with Wagner's assertion that his health insurance premium was heavily subsidized. He also said the accusation that he worked only 500 hours per year for his pay and catered to corporate interests was untrue.
"I think facts are really important," said Walden.
He said he and wife Mylene had a Blue Cross plan under Obamacare. Their monthly premium was $799.82 per month and their deductible was $2,000 in network and $4,000 out of network. He also paid for dental and vision coverage, for a total of about $1,450 per month.
"Free health care for all" was chanted by some members of the audience during the discussion, which included a broader conversation on Republican plans to "repeal and replace" Obamacare.
Walden said he was a strong supporter of Medicare after some people accused him of trying to end the program.
"I was on the committee when we passed Medicare Part D, which has been very successful," he said.
"Nothing we're doing in health law that's being debated right now adversely affected Medicare."
He also vowed not to support legislation that capped the level of insurance, discriminated against gender, prevented people with pre-existing conditions from accessing coverage or excluded children from being on their parents' policy until age 26.
"We have to do something because Obamacare is going broke," said Walden.
He said the number of counties across the nation that no longer had insurance providers had grown from 225 in the last several years to more than 1,000 because of unaffordable costs.
He said Oregon alone had accumulated a $882 million shortfall in Medicaid services.
"We have to fix this," he said.
Walden said Republicans will take another run at repealing Obamacare and passing their own health care bill.
In Hood River, a constituent accused Walden and other GOP leaders of causing insurance companies to back out of the marketplace due to the seven years of uncertainty created by their talk of "repeal and replace."
"We're absolutely disgusted that you led the committee to take away health care," said another.
On the issue of Republicans exercising the "nuclear option" to change Senate rules for the appointment of Judge Neil Gorsuch to the U.S. Supreme Court, Walden also drew fire.
"Are we going to see the GOP using this for the next four years to get around the opposition?" asked a citizen of The Dalles.
"I'm not in the Senate and I was not at the hearing," said Walden. "I think he's a very qualified justice and, if I had been in the Senate, I would have voted for him."
He said, in terms of the rule change to do away with filibusters, he felt it was interesting how "things change" when control of Congress changes.
According to Walden, former Senate Majority Leader Harry Reid, a Democrat, had eliminated filibusters for appointments other than Supreme Court when his party was in control. He said Republicans, now in the majority, had taken the next step by eliminating the filibuster for high court justices
"My preference is that you'd have hearings and be allowed to vote," he said. "When you can't even get to the vote because of a filibuster, that's not moving forward, it's dysfunctional."
"Why didn't you say anything?" yelled one constituent.
"I'm not in the Senate" repeated Walden.
"Stand up for us," the person called.
"I do," said Walden.
Other topics of discussion included Native American needs, the provision of mental health services and America's energy policy.
Walden said many bipartisan bills were approved and signed into law each year but people rarely knew about them because the media focused almost exclusively on controversial issues.
Latest stories
Latest video:
Mosier oil train fire
Clips from oil train fire in Mosier, Friday, June 3, 2016. by Mark B. Gibson/The Dalles Chronicle. Enlarge