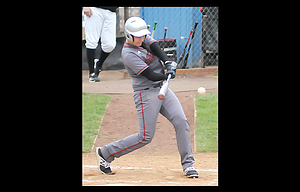 Riding high off a pair of lopsided league wins over Heppner, the No. 12-ranked Sherman Huskies picked up a road split Tuesday in a Blue Mountain Conference baseball clash against Weston-McEwen, winning the opener by a 9-2 score, but losing the nightcap, 13-8.
In Tuesday's first game, Trey Homer slugged a home run, Kyle Fields went 2 for 4 with three RBIs, and Brett Troutman threw his ace stuff with 6 2/3 innings of five-hit ball to lead the Huskies to a 9-2 victory.
Sherman scored five third-inning runs to break the contest open, as Troutman had an RBI squeeze, Fields drove in Maverick Winslow and Treve Martin with a two-run single, and Max Martin finished the frame with a two-run double, plating Fields and Homer.
The Huskies (6-2 overall, 3-1 league) added one run each in the fourth and fifth innings, and then Fields and Jacob Justesen tacked on RBI hits in the seventh to cap the scoring.
Overall, Sherman tallied 12 hits, received four walks and went 7 for 7 on stolen bases, Justesen was 4 for 4 on steals, to go along with a hit, two walks, a run scored and an RBI.
Troutman had two hits, a run scored and an RBI, Treve martin scored two runs, and Max Martin ended up going 1 for 4 with a double and two RBIs.
Troutman struck out four and walked a batter in his 84-pitch effort and both runs he allowed were earned.
In Tuesday's second game, the TigerScots (3-6, 1-3) hit Fields and Homer for nine runs, seven earned, over the first three innings in a 13-8 win.
The Huskies totaled 10 hits, including a three-run home run from Justesen in the second inning, but left seven runners stranded, five in scoring position.
Troutman had three hits, two runs scored and an RBI, Max Martin went 2 for 4 with a run scored, and Winslow walked and scored twice.
Fields lasted 1 2/3 innings and gave up six runs on five hits with no strikeouts and two walks for the losing decision.
Saturday at home against Heppner, Sherman pounded out 32 hits, received 12 walks and had two batters hit by a pitch in a two-game sweep by scores of 15-0 and 23-4.
The Huskies notched 15 hits, five doubles, as they scored five in the second inning and put Heppner (1-9, 0-4) away with seven runs in the third.
Fields went 3 for 3 with two runs and three RBIs, Justesen added three hits, three runs and an RBI, and Treve Martin was 3 for 3 with two runs and an RBI.
Troutman had two hits, a run and four RBIs, Winslow was 2 for 2 with two walks, two runs and an RBI, and Bradley Moe added a hit, scored twice and drove in a run.
On the mound, Troutman faced 14 batters in his four-inning effort and scattered three hits and struck out six to chalk up the win.
In the nightcap, Sherman rattled off seven first-inning runs, added four in the third and then capped an impressive offensive surge by sending 13 batters to the plate in an eight-run fourth frame to defeat Heppner by a 23-4 mercy-rule.
Fields paced the Husky charge by going 3 for 3 with three runs scored and three RBIs, Winslow added three hits, two runs and four RBIs, and both Troutman and Homer chipped in two hits, two runs scored and three RBIs apiece in the team's 15-hit barrage.
Moe had two hits, scored three runs and added an RBI, Max Martin was 2 for 3 with a run and an RBI, and Cal Homer, Chris Ballesteros, Darrian Davis and Jacob Shandy scored a run each.
Justesen tossed one inning of one-hit ball with two strikeouts and three walks to earn the win.
Sherman hosts Union/Cove (0-4, 0-2) in another league doubleheader slated for 11 a.m. on Saturday in Moro.
More like this story
Latest stories
Latest video:
Mosier oil train fire
Clips from oil train fire in Mosier, Friday, June 3, 2016. by Mark B. Gibson/The Dalles Chronicle. Enlarge