Wednesday, April 12, 2017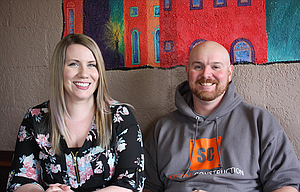 When construction companies around the Columbia River Gorge started getting too busy to take on new jobs, Tim Brown knew it was the right time for him to step up.
"With the economy turning up, there is a need for a lot more work happening," said Brown, who co-owns Skycam Construction with his wife, Rachel. "People in the field are too busy, and that's why they're turning work down. It's time for someone else, and I was at the point where I wanted to branch out in my own business. I've been thinking about this for the last year, and I decided to go for it."
"A lot of established construction companies are so busy they are not able to get to things quickly, and that's one of the reasons we got started," added Rachel. "Everybody seems to be really busy."
Skycam specializes in a variety of niches. The company handles driveway regrading and repairs; site prep and development; placing utility conduits; laying pipelines; building rock retaining walls; installing and repairing septic systems; and excavations.
"We don't build the house; we get the ground ready for it," said Rachel. "We have been bidding a lot of work, and once we get rolling, we'll be busy. We're trying to set up for the summer."
Brown said his fledgling company got started in March, but he has years of construction experience in the Gorge.
"This is the first business I've ever started, but I've been in heavy civil construction in the Gorge for 15 years," he said. "Most of my experience is with public works projects, and my standards are high because I've worked with engineers and others who were inspecting my work."
Rachel has key experience in the field as well. In addition to her role managing the business, she works as office manager for Windermere Real Estate in The Dalles. She pointed out there is a bit of a housing boom currently underway.
"It has a lot to do with the need for more housing in the area. There is not much (residential) inventory at all, so there is a lot of new construction going on," she explained.
Tim and Rachel, who married in 2009, explained that the "Skycam" name of their business was taken from the first part of the names of their two sons – Skyler, 6, and Cameron, 3. And there is an additional meaning behind the name.
"It's a company I'm building to be able to pass down to my kids," Tim said.
The company is currently licensed in Oregon for residential and light commercial work, as well as septic installations. However, the couple is working to also get licensed in Washington, hopefully by this summer.
"We've been getting a lot of interest from Washington," said Rachel. "There is a lot going on in Goldendale, and that's part of why we're pushing to get the Washington license. There are not many places to go for undeveloped real estate."
They will take on jobs within roughly 50 miles of The Dalles.
"We'll go to Cascade Locks, Boardman, Maupin," Rachel said.
For now, Tim and Rachel run the business out of their house in The Dalles, but they are planning to open an office in the city by the end of the year.
They currently have just one on-call employee, but that number is expected to grow.
"As the work load increases, we'll be hiring," Tim said.
"As we grow, we want to keep our company feeling like a family," Rachel added. "Taking care of our employees is important to us."
Tim said he believes supporting other businesses in The Dalles helps everyone.
"I want to keep money in the community," he explained. "I buy my tires here and groceries here, and my pickup trucks and trailers. I try to use local suppliers, and have a local insurance agent. I want to take care of my employees, and get them a 401(k) plan and insurance as soon as I can. I want to keep the money in the area."
To contact Skycam, call 541-980-8063, or visit the company's website —www.skycamconstruction.com — or check out their Facebook page.
More like this story
Latest stories
Latest video:
Mosier oil train fire
Clips from oil train fire in Mosier, Friday, June 3, 2016. by Mark B. Gibson/The Dalles Chronicle. Enlarge