Wednesday, April 12, 2017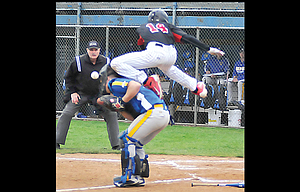 Dufur pitcher Bailey Keever capped a two-game Blue Mountain Conference sweep over Heppner with a 71-pitch, five-inning no-hitter with a season-high 13 strikeouts in Dufur's 10-0 mercy-ruled victory at Quinton Street Ballpark.
It was Keever's first-ever varsity no-hitter.
"Every pitch felt pretty smooth," Keever said. "Having Hagen (Pence) back there was nice. He's caught me quite a bit before and we just had a good rhythm. I felt good with every pitch and it felt like I was popping it hard. It was just one of those days where everything was flowing well for me today. I was real glad to get this win for the team."
Out in front by a 7-0 margin in the top of the fifth inning, the Rangers landed the knockout blow.
Russell Peters and Cayton Sinay led off with consecutive walks, and two outs later, Keever walked to load the bases.
Kolbe Bales laced a two-run single to right, scoring Peters and Sinay to swell the lead to 9-0.
With the bases loaded again, following a hit by pitch to Pence, Curtis Crawford was issued a bases-loaded walk, making it a 10-0 Ranger advantage.
Keever struck out the side in the bottom of the fifth to slam down a win and a sweep of Heppner.
Dufur totaled 10 hits, two doubles, received seven walks, and had a hit batter.
Keever finished 3 for 3 with three runs and two RBIs, Bales had two hits, a walk and three RBIs, Crawford was 1 for 3 with a walk and two RBIs, and Sinay walked and scored twice.
In the first game, Connor Uhalde was 2 for 3 with a walk and two runs scored, and Keever added two hits, three runs and two RBIs in Dufur's 9-2 win.
The No. 10 Rangers scored two in the first, added five in the second frame, and scored single runs in the third and fifth.
Bales walked three times and poked a double, with two runs and an RBI, Tabor McLaughlin added a hit, a stolen base and two RBIs, and Pence had a hit, two walks, a run and an RBI.
Pence went four innings and allowed two hits with six strikeouts and two walks for the win.
"We are playing hard right now and our pitchers are doing their job," Pence said. "I think we are doing good. We can be better though. It will come down to us wanting more from ourselves, so we can stay on top."
Dufur (9-0 overall) travels to Hermiston for a doubleheader against Elgin (2-0) at Armand Larive Middle School, starting 11 a.m. on Saturday.
More like this story
Latest stories
Latest video:
Mosier oil train fire
Clips from oil train fire in Mosier, Friday, June 3, 2016. by Mark B. Gibson/The Dalles Chronicle. Enlarge