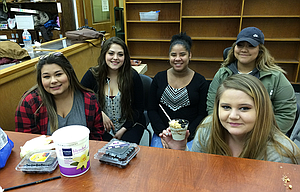 The grand opening of the student-run Wahtonka Community School Store is this Saturday, April 8, during the Spring Fair EGGstravaganza craft fair being held at the school.
The grand opening, from 10 a.m. to 4 p.m., will feature products from Sandoz Farms, Morgan Honey and a selection from Azure Farms. Also on hand will be free iced coffee and a free seedling with purchase, while supplies last.
The store has been open to students during lunchtime for a few months as the five students running the store learn the ropes. It is located in the library at the school.
Kathy Ursprung, president of the Community Harvest Co-op, a group that hopes to open a grocery store in The Dalles carrying locally sourced items, has been helping the students get the store open, offering guidance on everything from pricing to bookkeeping to signage.
Store revenues are earmarked for future overseas trips by students. Junior Michelle Woolsey, 16, said, "We're trying to raise money for a Brazil trip that we're doing in August."
The store will offer healthy food and natural products, art, greeting cards, coffee, other beverages, candles, and other local products, Ursprung said in a press release.
So far, top sellers have been a cheese and cracker platter and yogurt parfaits, said Sonia Sedano, 17, a junior.
The community school, now in its third year of operation, is open to students who have dropped out of the high school.
Learning is project-oriented, and the girls running the store are getting class credit.
The idea for the store came from Brian Goodwin, principal of the community school.
Other students, as part of their own projects, built a long counter for the store, while some other students were clearing out a nearby school shed that collapsed because of snow, and they found a perfectly serviceable glass display case and brought it to the school for use in the store.
Ursprung said, "The store is starting out small and available products will evolve over time as the store becomes more established and the growing season brings produce availability.
The store is open from 10 until lunchtime during the week. Over time, we hope to offer regular Saturday hours for the convenience of co-op members, the surrounding neighborhood and the community at large."
Saturdays would be staffed by co-op volunteers in service to the community. Those interested in volunteering can contact Ursprung at ursprung.kathy@gmail.com.
A locked fridge and cabinet store the inventory. Goodwin has the key.
Woolsey assembled a yogurt parfait for a photo op, and Graceila Alvarez, 14, a freshman, explained that they put on food handling gloves when they prepare food. "They watch us make it."
Sales so far, just to fellow students, have been pretty good, Sedano said. "We sell things every day."
Their biggest haul was maybe $60 in one day, said Raquel Garcia, 17, a junior.
"We keep track of whether we're losing or making money," Woolsey said. And so far, things are at a bit of a deficit, "but Brian says everybody's in debt when they start."
Junior Katy Barlow, 17, said her favorite part of running the store is making the yogurt parfaits.
Woolsey said, "I like the discount that we get." It's 50 percent off for them, and prices are already reasonable, with the most expensive items on the menu – the cheese platter and yogurt parfait — being just $1.50.
They make inventory runs to local grocery stores, and they've placed calls to other local vendors for product as well.
Garcia said the students hope to widen the product offerings, including locally made balms and other products.
A student at the school has offered glass-containered succulent plants, and senior Jordan Lutu has even sold some of his space art artwork, made of stencil work and glaze.
More like this story
Latest stories
Latest video:
Mosier oil train fire
Clips from oil train fire in Mosier, Friday, June 3, 2016. by Mark B. Gibson/The Dalles Chronicle. Enlarge