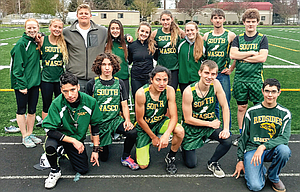 With spring break now in the rearview mirror, the South Wasco County track and field team went back to work against four 3A programs looking to reset its high marks at the WVL-Dayton Invitational Meet Thursday afternoon in Dayton.
In all, the team tallied 18 personal records, Madisen Davis set a school record in the javelin, Ana Popchock won the long jump, and the 4x400-meter relay team of Jada Myers, Jacqueline Noland, Popchock and Sprouse scored top honors with a season-best time of four minutes and 40.24 seconds.
The girls also hit for seven second-place finishes and three thirds, as they racked up 71 points for second place in the team standings, just 5.33 points behind event champions, Santiam Christian.
"It was great to see them doing so well this early in the season," SWC head coach Jim Hull said of the girls' performance. "They finished second at a 3A meet. Coming out of spring break, it shows that our conditioning has to get better, but the girls are working very hard to reach their goals this year."
Davis, who previously hit more than 100-feet in the javelin event once in six meets last season, had a benchmark of 108-feet-11.5 inches on March 17, but then broke a school record with a top toss of 111-0, surpassing a 2010 feat accomplished by Carly O'Neal (110-0).
Popchock, who had three individual wins and a relay victory on St. Patrick's Day in Condon, had a season-best distance of 15-0 to take first in the long jump, and added a second in the triple jump (32-0) and went for a season-best time of 27.93 to score third place in the 200-meter race.
Lindsey Hull had a personal-record throw of 29-02 to tally second place in the shotput, claimed second in the discus with a personal record of 83-0, and ended up third in the javelin (98-03).
Noland, a sophomore, had an 800-meter time of 2:43.24 to claim second, Davis was second-best in the 100-meter hurdles with her personal-record time of 18.68, and both Myers and Sprouse finished second and third, respectively in the 300-meter hurdles.
Myers' time of 53.96 was a personal record, while Sprouse set her season-best after a solid 54.89.
Taking fourth in the 4x100-meter relay was the quartet of Noland, Myers, Sprouse and Davis with a combined 55.21, less than second behind their time at the 2016 Big Sky Conference championships (54.51).
Westside Christian placed third overall on the girls' side with 67 points, Dayton was fourth (54.66) and Willamina had 44 points for fifth place.
With 86 points, the Santiam Christian boys' team completed the championship sweep, besting Dayton (80), Westside Christian (67), Willamina (65) and South Wasco County (41).
The boys tallied 12 personal records, with Dawson Herlocker leading with a personal-record of 116-04 for first place in the discus.
Before Thursday, Herlocker's best toss was for 108-1 on May 9, 2016 at the Arlington Invitational.
Herlocker claimed second in the shotput with his personal record of 36-08.75, and junior Michael Cuevas secured seconds in the 400 meters (56.81) and javelin (141-07).
Brandon Wraught, Tuff Wilson, Roger Marines and Matthew Gragg put together a final marker of 52.02 for second place in the 4x100-meter relay race.
Gragg, Cuevas, Wilson and Marines also went for a 4:17.06 for third in the 4x400-meter relay, and Wraught had a fourth-place shotput of 33-08, a personal record, and he went for a 125-0, a personal record, in the javelin.
Cuevas was fifth in the 200 (24.81, a personal record), Gragg placed seventh with his 26.06 in the same vent, and Marines had a personal-record 300-meter hurdle run of 48.06.
"The boys had a strong showing," coach Hull said. "The boys are shaping up. They all competed well today. For some, it was their first competition in track and field in two years."
With the weekend off, the Redsides prepare for track meets on back-to-back days in Heppner and Umatilla, starting at noon on Thursday, April 13 for the Mustang Invitational.
More like this story
Latest stories
Latest video:
Mosier oil train fire
Clips from oil train fire in Mosier, Friday, June 3, 2016. by Mark B. Gibson/The Dalles Chronicle. Enlarge