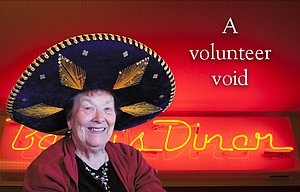 In a cruel one-two punch, Mid-Columbia Senior Center and Meals on Wheels lost its two most significant volunteers early in March when both died two days apart after short illnesses.
Betty Harlan, 84, was the life of the party, and if a party wasn't afoot, she'd see to it that one was organized, said Denise Patton, director of Meals on Wheels, which is housed in the senior center.
She considered Harlan, who died March 10, a mentor and her best friend. Harlan ran the Meals on Wheels for years, and after retirement volunteered daily at the senior center.
David Zopf died March 8 at age 88. He tended to the roses at the senior center, bagged and delivered lunches for Meals on Wheels, and volunteered throughout the community, including at the hospital and the Red Cross.
"They were our very best volunteers," said Patton.
A number of people have come forward, or are considering it, to fill the gap the two left. Pitching in more on front desk duties are Jeanne Pesicka, Vicki Sallee and Sandy Haechrel, said Senior Center Executive Director Scott McKay. He has a person who has expressed interest in maintaining the grounds.
"It's going to take many people to replace one person," Patton said.
McKay said he'd stop by the senior center on weekends sometimes, and there'd be Zopf at work on the grounds.
"He was always doing that and I always felt embarrassed because he'd be here," McKay said. "I felt kind of guilty because he did all this volunteer work. If he saw something that needed to be done, he just did it."
"I seem to remember David saying he wasn't going to be able to do any more, and when he saw nothing was going to happen, he started doing it again," McKay said. "That's why I always feel guilty."
Harlan, who lived in The Dalles all her life, was at the senior center five days a week, Patton said, either volunteering at the front desk, sitting at the sign-in desk for Meals on Wheels, or helping with Thursday night bingo, a Meals on Wheels fundraiser.
She was more fun than a barrel of monkeys, but was also extremely organized. She took the work seriously, Patton said.
In fact, Harlan was the interim senior center director before McKay was hired 10 years ago. Harlan handed him a red book in which she had thoroughly detailed all the essentials of the center, such as information on irrigation and heating. "She was kind of the institutional memory of things around here," McKay said.
It's no surprise, since Harlan helped found the senior center. Her Meals on Wheels program was already in existence, and had been in several locations already. She wanted a permanent home, and lobbied for a kitchen at the proposed senior center. She then helped fundraise to build it, Patton said.
For the first full year of its existence, until it established itself, the senior center was fully funded by Meals on Wheels, she added. "She's what kept the building open."
"It was important to Betty for seniors to have a place to go," Patton said.
McKay said, "The thing about Betty is she was just a real caring person. She wanted to make sure everyone was taken care of."
She believed strongly in the mission of Meals on Wheels, Patton said, which provided a nutritious meal to seniors every weekday, and also provided, in many cases, their only daily contact with the outside world.
The senior center will never find another Betty or David, Patton said. "But what we need is volunteers. Scott needs them for his front desk, I need them for my sign-in desk in the front room."
(To volunteer at the senior center, call 541-296-2771. To volunteer for Meals on Wheels, call 541-298-8333.)
Patton also needs drivers for her meal routes. Monday through Friday, Meals on Wheels drives seven routes. Each route takes an hour. Zopf faithfully drove a route two days a week, and also helped pack each route's insulated carrier with the hot portion of meals, Patton said.
Zopf, a Stanford graduate whose long career included overseeing development of Oregon State University's Hatfield Marine Science Center, had a keen intellect and a great sense of humor, Patton said.
He and his wife Nancy, who grew up here, moved to The Dalles in 1996. He was a man of "character, discipline, intellect, strong work ethic, humor, generosity and compassion," his family wrote in his obituary. "He felt very strongly that contributing to his community was 'the rent we pay to be here,'" his family wrote.
"David was incredibly educated," Patton said. "He was an incredible man, but when he was done working, he devoted all of his time to making other people's lives easier and better, and it was an incredible thing to watch, it really was."
"David was probably one of the kindest men that I've ever met," she said. "He was just very gentle, he was a gentleman, he loved his wife dearly."
One day, she asked after Nancy, who had been ill. "He looked at me and he said, 'My beautiful bride is doing fantastic today.' And they had been married for 65 years, it was really touching. Good man, he loved his family."
"You know, David did so much for the whole community, so it's not gonna just be our organization" that misses him, Patton said. "I would drive through town and I'd see David around the post office trimming trees. Over by the middle school. You just never knew. I would see somebody pruning trees and I would see David's green coat and I would know it was David."
Zopf loved animals, and he and Patton enjoyed a special bond as they cultivated a friendship with a crow who lived at the center. (See related story.)
While Zopf had his green coat, Harlan also loved to wear bright colors. Asked if she was a member of the Red Hat Society – a group of boisterous, fun-loving women who dress in purple and red – McKay joked, "That might've been too tame for her, I'm not sure."
"She was somebody that loved to have fun and she was always looking for a laugh," Patton said.
"She'd say, 'Ok, we need a party.' She loved gag gifts and bright colors."
Even when Harlan became wheelchair-bound several years ago, she never failed to volunteer. McKay would tell her she could leave early if needed, but she insisted on staffing the front desk until the doors closed at 5.
In her wheelchair, she became hard to spot on Thursday bingo night – which she'd helped Patton with every week for 15 years — so Patton decided to "flag her" to make her more visible. "She loved it. She was such a character. And she loved to flirt with the young guys when they came in and of course the loved the children."
Of Harlan, Patton said "Her body aged, her soul never did. She was always looking to have a good time and you would hear her laughter and she was just wonderful."
One time, a group went camping together and "she rented a great big party boat and we all went out on the big boat and Betty drove it and we all go, like, 'We're done,' and she said, 'I'm not,' and she loaded it with the grandkids and took off."
More like this story
Latest stories
Latest video:
Mosier oil train fire
Clips from oil train fire in Mosier, Friday, June 3, 2016. by Mark B. Gibson/The Dalles Chronicle. Enlarge