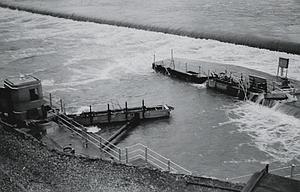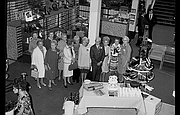 20 years ago – 1997
Three Rufus-area men are in jail after one of them allegedly fired four to five shots at a pickup on East Second Street about 9:30 p.m. Tuesday. There were no injuries.
The runways at The Dalles Municipal Airport took a pounding last Friday – on purpose. A Portland contractor brought a Swedish-made device that tests for holes, or voids, under pavement. The testing consists of dropping the equivalent of 30,000 pounds on the asphalt to see how much it moves – or if it collapses.
It's a challenge, driving a field cultivator 100 feet between strategically-placed paper cups filled with dirt. It's also part of a contest. Members of The Dalles Chapter FFA get a chance to show off their tractor-driving skills Thursday, April 10, when they host the FFA Tractor Driving Contest for the Mt. Hood district. "I teach it all in the tractor operation course and this gives them some practical experience," said Dave Wagenblast, FFA advisor and agriculture teacher at The Dalles High School.
40 years ago – 1977
Gov. Bob Straub has asked that President Carter declare Oregon a drought disaster area and he listed 21 counties with severe problems. Wasco, Sherman, Gilliam and Hood River are included. Straub said wheat production was expected to be down 40 per cent in Wasco, Sherman and Gilliam and that Hood River was facing a forage problem.
The Dalles High Jazz Ensemble won five ratings of excellent during the Orange Coast College Jazz Festival, band director Dick Dorr said today.
60 years ago – 1957
Hearings on the proposal to complete the Columbia river ship channel to the authorized depth will be held in the appropriations committees of the U. S. House of Representatives and Senate in May, members of the board of directors of The Dalles Chamber of Commerce were advised at their luncheon meeting yesterday by E. T. Chambers, president of Columbia River Development association. A request that W. S. Nelson be designated to appear in Washington during hearings in behalf of both the ship channel and John Day dam appropriations, at the expense of the Columbia River Development association, was approved tentatively by the chamber board.
80 years ago – 1937
FOR SALE – 5-room house, good barn and other buildings with 2 acres of good land. Price $2,500. $500.00 down, bal. like rent. Karl & Hurley, 405½ E. 2nd.
Charles Leonard McCafferty, 64, a resident of Dufur, died this afternoon at a local hospital. He had been suffering from a lengthy illness.
LONDON, April 2. (UP) – The international sugar conference here next week may be used as a stepping stone toward an Anglo-American move to promote world peace, it was learned today.
LONDON, April 2. (UP) – Great Britain, fearing that in the "next war" her vulnerable little island will be subjected to aerial bombardments vastly more terrible than those of the World war, is working overtime to catch up and keep pace with the continental powers in the air armaments race. Britain awoke to that situation with a rude shock. The sudden, disconcerting revelation just two years ago that Germany had stealthily achieved air parity startled her into furious action. So deep is the military secrecy of the dictatorial nations that the British intelligence service was badly deceived.
100 years ago – 1917
"The entire citizenship of The Dalles, in mass convention, pledge to you our unqualified support, and express our confidence in your ability to protect the honor and dignity of the nation." That message went over the wires between The Dalles and Washington, D. C., yesterday afternoon following the greatest patriotic demonstration in the history of this city.
FOR SALE – Driving mare, weight 1000; single buggy, wire wheels, rubber tires. Cheap. Inquire 404 Webster street.
More like this story
Latest stories
Latest video:
Mosier oil train fire
Clips from oil train fire in Mosier, Friday, June 3, 2016. by Mark B. Gibson/The Dalles Chronicle. Enlarge