Friday, September 23, 2016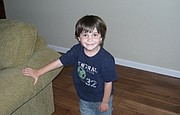 My children call me Mammy. It's an Irish thing.
I was in California visiting three of my grandchildren when I saw my 4-year-old grandson, "B," having a bit of a tiff with his mother. She had let him have Lucky Charms cereal for breakfast. He, of course, had eaten all the marshmallow stars and none of the rest of the cereal and was asking for more. She said, not only would there be no more today, but there would not be anymore until he was old enough to eat everything in the bowl and drink his milk.

Early the next morning, "B" came wandering down the stairs and asked me to fix him a bowl of Lucky Charms. I said, "Afraid I can't do that. Your Mom said no more Lucky Charms". He reassured me that he had spoken with his mother and that she had okayed the plan. So, I said, "You know, I just need to get that okay from your Mom and then I'll be happy to fix 'em for you." And as I moved forward, he threw his entire body between me and the staircase, stretched out his arms as far as they would go, and with piercing, squinty little eyes, he said, "Mammy, it's time for you to go home now."
Later in the day, when I was teasing him about what happened I said, "I can't believe you tried to pull one over on me", and he reached over and patted me on the arm and said, "Mammy, Mammy, it's just the way of the world,"
And, so it is.
More like this story
Latest stories
Latest video:
Mosier oil train fire
Clips from oil train fire in Mosier, Friday, June 3, 2016. by Mark B. Gibson/The Dalles Chronicle. Enlarge