Tuesday, October 25, 2016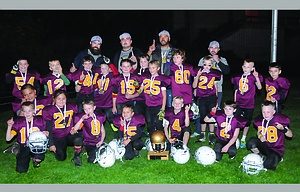 A Glance
TD youth football
Third and fourth Maroon
Owen Adams..............................22
Elijah Cardona............................19
Nolan Cates................................17
Finley Corbin..............................44
Cole Fox.......................................8
Dakota Furler..............................60
Derek Goulart.............................25
Austin Kuehnl.............................28
Trace Larson...............................46
Anahuy Lopez............................27
Ezekiel Marble............................12
Reece McBurney..........................2
Logan Mitchell..............................4
Jonah Ofisa................................54
Evan Ortega...............................15
Elijah Peko..................................32
Noah Preston.............................13
Leighton Voodre.........................24
Asa Waller.....................................6
Local Schedule
Tuesday, Oct. 25, 2016
Prep Girls Soccer
The Dalles at Hood River, 4 p.m.
Prep Boys Soccer
Hood River at The Dalles, 4 p.m.
Prep Volleyball
The Dalles at St. Helens, 6 p.m. State Play-In Game
Wednesday, Oct. 26, 2016
Prep Cross Country
The Dalles at CRC Championships in HRV, 3 p.m.
Prep Volleyball
Damascus Christiaan at Dufur, 6 p.m. state sub-round
Friday, Oct. 28, 2016
Prep Football
Ione at South Wasco, 7 p.m.
Dufur at Mitchell/Spray, 1 p.m.
Sherman at Elgin, 6 p.m.
Glencoe at The Dalles, 7 p.m.
Like a heavyweight title bout, The Dalles and White Salmon traded haymakers for 32 minutes of action.
With three minutes and 26 seconds left in regulation, Nolan Cates landed the knockout blow, hitting the end zone on a 30-yard touchdown run to seal a 24-16 triumph in a third and fourth grade youth football championship game played Saturday in White Salmon.
"We ran into some boys that did their jobs," said TD head coach Michael Cates. "We had to take a gut-check a couple of times, because they were marching the ball on us all game long. We came through. Our speed came through, our blocking, we had smaller linemen that had to block some big boys. They did their job in the end. I am super proud of these boys. They earned every bit of this."
Even with the eight-point lead, The Dalles still needed two defensive stands to keep White Salmon off the scoreboard.
On a fourth-down play from The Dalles 40, Jonah Ofisa made a fourth-down tackle to give the ball back to The Dalles' offense.
TD punted on its next possession, but White Salmon had the ball on its own 42 with 22.3 seconds left in the game.
White Salmon then had a running play total 21 yards to make it first down and 10 from The Dalles' 37-yard line with 14.5 seconds left.
Facing a second and 12 from TD's 39, Ofisa tracked down a sweep toward the left sideline and made the tackle as time expired to give The Dalles its second straight youth championship.
"Those boys have stepped up and gotten better and better every week," coach Cates said. "Our tackling has become our strongest thing. That is what separated us from everyone else this year. Our defense has an ability to tackle and an ability to get out to the sides. To be able to run a play and not have confusion, jumping offsides and all of these other things that plagued us early on, was a great thing to see. From start-to-finish, we have come ready to play. These kids have stepped it up."
On the first play from scrimmage, Elijah Cardona hustled for a 60-yard touchdown run to give TD a 6-0 lead.
White Salmon added a touchdown and extra point kick for an 8-6 cushion with 1:06 left in the first quarter, but The Dalles Maroon squad answered right back on its next possession.
On another quick strike, Cates hit paydirt from 60 yards out to make it a 12-8 TD lead.
Nolan Cates later tacked on another touchdown run, this one from 53 yards out, with 16.4 seconds left in the half, as TD jumped out in front, 18-8 at the half.
Both teams went scoreless in the third quarter, but White Salmon scored a three-yard run and added the kick to inch to within an 18-16 deficit with 7:53 left in the final period.
"We just never let anybody score on us, except in the first game we played against White Salmon and this last game against White Salmon. We just shut out everybody," said Leighton Voodre. "Our defense is really good because we have a good defensive line, linebackers, cornerbacks and safeties. We make hits and interceptions."
Voodre also gave praise to the offense for scoring when the opportunities were there.
Every score mattered in this title game, especially when it looked like White Salmon would stage a late-game rally.
"Our running backs, Nolan and Elijah, played really good and our lineman did good. At the beginning, our line wasn't very good, but then they got better at the end," Voodre said. "Our receivers are really good at catching and getting their motions right and we just all played great. Our team is just really good. That is why we won."
In the past two years, The Dalles has amassed a 14-0 record and relied on its defense to shut teams down.
With two titles in hand, coach Cates is hoping this team stays hungry and motivated to keep winning at the fifth and sixth grade level.
"These boys expect to win. They come out every day expecting to win. Everything is a habit," coach cates said. "We push these kids hard and we expect them to give it their all in practice. Everything is a competition. These boys learn to compete because that's what this is. It is all about competing day-in and day-out. Now they have gotten to a point where they expect to win and hopefully they can carry it on to next year and every year after that and into high school."
More like this story
Latest stories
Latest video:
Mosier oil train fire
Clips from oil train fire in Mosier, Friday, June 3, 2016. by Mark B. Gibson/The Dalles Chronicle. Enlarge