Tuesday, October 25, 2016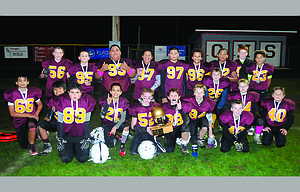 A Glance
TD youth football
Fifth and sixth grade Maroon
Anthony Jara..............................20
Styles DeLeon............................23
Cole Greenup.............................26
Olsen Meanus III........................34
Andy Maney................................38
Tristan Ku Ku..............................40
Chris McPherson.......................42
Ian Preston.................................52
Riley Brock.................................56
Noah Roden...............................64
Cameron Sorensen....................66
Henry Begay...............................70
Blake Darr...................................84
Malcom Iaulualo.........................87
Evan Baldy..................................89
Ian Hammond............................91
Andre Niko.................................92
Alataua Fa'amausili....................93
Dylan Titus..................................95
Phillip Casey...............................96
Manatu Crichton-Tunai...............97
Local Schedule
Tuesday, Oct. 25, 2016
Prep Girls Soccer
The Dalles at Hood River, 4 p.m.
Prep Boys Soccer
Hood River at The Dalles, 4 p.m.
Prep Volleyball
The Dalles at St. Helens, 6 p.m. in State Play-In Game, TBD
Wednesday, Oct. 26, 2016
Prep Cross Country
The Dalles at CRC Championships in HRV, 3 p.m.
Prep Volleyball
Damascus Christian at Dufur, 6 p.m. state sub-round game
Friday, Oct. 28, 2016
Prep Football
Ione at South Wasco, 7 p.m.
Dufur at Mitchell/Spray, 1 p.m.
Sherman at Elgin, 6 p.m.
Glencoe at The Dalles, 7 p.m.
In their last game of the season, Ian Preston and the rest of The Dalles' fifth and sixth grade football team knew there was a legacy at stake.
For four quarters, The Dalles dominated both sides of the ball, using its big-play offense and suffocating defense to defeat Hood River Blue by a 30-0 margin Saturday at Columbia High School in White Salmon.
The win gave TD its first fifth and sixth grade title in program history.
"It feels really great to finally win a championship," Preston said. "It was our last opportunity to finish off our last year in football. If we would have lost, I don't think there would have been a void. We just tried to play it out and do our best without any regrets. As long as we tried our best and played together as a team, we knew we had a chance to take it."
Styles DeLeon got things started on TD's opening drive with a 55-yard touchdown to make it 6-0.
On TD's second possession, DeLeon had a 25-yard run to move the ball inside the red zone, and he capped the scoring drive with a 15-yard touchdown run to increase the lead to 12-0 at the 7:53 mark of the second quarter.
Phillip Casey added the extra point kick, and The Dalles was off and running with a big first-half lead, 14-0.
Over the next six minutes of the second quarter, both teams could not hit the end zone for points, but The Dalles ended the first half in style.
With time running out, DeLeon found an open Casey in the middle of the field for a 40-yard touchdown pass as time expired to run the lead to 20-0.
Casey added the kick to make it, 22-0 at the half.
At the 7:46 mark of the third quarter, The Dalles dropped the hammer down on Hood River, as DeLeon scampered 60 yards for a touchdown.
Casey tacked on the extra point to give TD a 30-0 advantage.
Entering Saturday's contest, Hood River's defense had not allowed a touchdown during the regular season or playoffs.
The Dalles offense quickly ended those shutout thoughts, and the defense showed it can be just as formidable.
Hood River never drove the ball inside TD's red zone in four quarters of action.
"The defense has been one of our best things on this team," Casey said. "Ever since our first game, we knew we had the players to be a tough defense to play against. We follow the ball, we play disciplined and we stay home."
And while The Dalles will revamp its fifth and sixth grade roster next season, as a good chunk of the players move on to middle school play, DeLeon and the coaching staff of Brian Baldy, Lamont Crichton-Tunai and Ken Brock is using this platform to promote life lessons, togetherness and a family atmosphere.
"The main thing for them is to stick together and to stay with their teammates," DeLeon said. "The point of this season, aside from the football, is stick to your guts, stick to your guns, be good in your community, be leaders and stick together. That was really what we wanted the kids to know. We are a family. We are here for nine weeks and we will accomplish so much if we are united."
Casey said there was a feeling of accomplishment winning in his final year, but he is hopeful that upcoming teams use the example set by this fifth and sixth grade group to try to win more championships down the road.
He takes much more away from the game than just winning.
"Football has taught the most about friendship and discipline," Casey said. "That is something we carry on in life. Every day, no matter what team I am on or whatever sport I am playing, it is about family and staying disciplined."
More like this story
Latest stories
Latest video:
Mosier oil train fire
Clips from oil train fire in Mosier, Friday, June 3, 2016. by Mark B. Gibson/The Dalles Chronicle. Enlarge