Saturday, November 26, 2016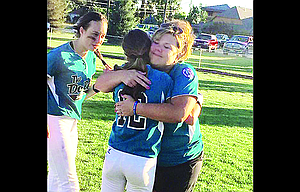 Coaching is never about personal gain or accomplishments.
The main motivation is to help teach life skills and mold and shape the youths of a local community.
Sunday evening while at a Babe Ruth Softball board meeting to discuss future plans for the program, The Dalles Babe Ruth board members honored coach Dawn Marie Hert with a Volunteer of the Year plaque for her years of service and leadership to the organization.
"Tonight, I was nearly brought to tears," Hert said. "What an amazing honor. I am truly touched."
This past summer, The Dalles 14U softball team had a season to remember.
One year after struggling to an 0-5 record at regionals, the group, coached by Steve Byers, Matt Eby, Terry and Dawn Marie Hert, posted a 4-1 record and outscored their opponents by an 81-49 margin to claim the Pacific Northwest Regional Softball championship in a week of play in Meridian, ID.
In the title game, The Dalles defeated Kuna, ID, by a 23-13 score to advance to the Babe Ruth World Series in Jensen Beach, Fla.
Needing to raise funds for this once-in-a-lifetime trip, Hert and several volunteers hit the streets and organized fundraisers to help offset costs.
The program raised close to $30,000 to give the girls a chance to play solid competition on the east coast.
"The task of making this team's goals and dreams a reality seemed to be an unattainable venture in such a short period. However, through your efforts, organizational skills and professionalism, you were able to bring our community together to provide the team an experience and a memory they will cherish forever," part of the plaque read on an inscription.
Always one to defer any credit, Hert said she shared this award with coach Byers and the team mothers, Jennifer Eby-Phipps, Wendy Palmer, Monica Menssen-Byers and Shilo Anderson-Wilcox, for helping with the cause.
"I share this volunteer recognition with my family, who helped make it possible for me to give my free time to a team, sport, and organization that I truly believe in," Dawn Marie said. "I share this with my awesome all-star team, for giving me 13 reasons to push through sleep deprivation and chaos. I do what I do for them."
Volunteerism and community service are just a small part of what being a part of the Babe Ruth program is all about.
Part of the organization's creado is that they must prepare today's youth to meet the challenges of adolescence and adulthood, as well as educate and inspire, through positive role models, a player's drive for personal excellence and achievement.
"These coaches are there not only helping their team, but also other teams and strengthening the whole program trying to make it stronger and encourage more girls to come out," said Menssen-Byers. "Dawn, Steve and Butch Hert have been there since the creation of the all-star program and it has been a great addition."

One player, Sydnee Byers ,sees the differences beingmade every day.
Having Hert as her coach gives her the drive to want to be a better player, teammate and community activist down the road.
The example is set.
"Dawn has been the reason we are able to do all this," Sydnee Byers said. "Without her organizing everything, we would go insane. She's so hard-working and great when it comes to these things. There isn't enough words to describe my appreciation, love and gratitude for Dawn. We all love her so much."
Coming from a winless venture to playing in the World Series showed that The Dalles and surrounding communities have athletes that can play well alongside the best players in the United States.
"Learning that we can compete at this level has really showed me that we have so much skill and are capable of great things," Sydnee Byers said of her coach. "Dawn has been such a great coach. She's so supportive and believes in everyone. She's always pushed me to be better and to play harder."
More like this story
Latest stories
Latest video:
Mosier oil train fire
Clips from oil train fire in Mosier, Friday, June 3, 2016. by Mark B. Gibson/The Dalles Chronicle. Enlarge