Tuesday, November 22, 2016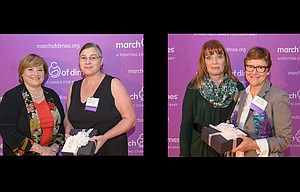 For the sixth consecutive year, nurses at Mid-Columbia Medical Center were among a group of Oregon health care professionals selected to receive one of the 2016 March of Dimes Nurse of the Year awards.
"It's an extraordinary achievement that a hospital of our size has been honored by the March of Dimes every year since the award's inception," said Dianne Storby, interim president/chief executive officer of MCMC.
"It is proof of the hard work and dedication to patient care I see every day from the health care professionals at MCMC. I am proud of our winners, past and present."
Each year, the March of Dimes selects one outstanding nurse in 16 different categories. At an awards breakfast and fundraiser held Nov. 18 at the Sentinel Hotel in Portland, two MCMC nurses received top ranking in their respective fields:
• Lynne Allen, a nurse practitioner for MCMC who lives in The Dalles, was awarded Advance Practice Nurse of the Year. She is a member of the patient care team at Celilo Cancer Center. Her name was submitted by peers because "she loves visiting with her patients, discovering their personal stories and supporting them through one of the most difficult times in their lives."
"It was an honor to be nominated, it felt incredible to be a finalist and to win is beyond words. This achievement was only possible because of the dedicated, caring physicians, nurses and staff at Celilo. Our goal is to provide the best care possible for cancer patients in the gorge and I think this award says we're doing it!" said Allen.
• The Home Health Nurse of the Year category went to Kathy Kahler, RN, MSN, CHCA, who resides in Odell. She is co-director of Visiting Health Services for MCMC. The daughter of a nurse, Kahler was nominated by medical staff because "she believes it is an honor that patients allow visiting nurses into their home to care for them."
"It's always been her mission to care for patients where they are most comfortable — in the home," said Marcia Medler, co-director of Visiting Health Services for MCMC.
"It's also kind of fitting that she won this honor this month, because it is Home Care & Hospice Month."
Kahler said she was "humbled" by the award.
"It's the team that I work with at Visiting Health Services, and my family, that makes me who I am. I look forward to growing MCMC's home health department in the Columbia Gorge region, where we cover seven counties in Washington and Oregon and serve over 200 patients every day. I want to thank the staff who cares for our patients and also my mom for her inspiration and support."
The annual March of Dimes awards breakfast brings together the health care community from Oregon and southwest Washington to recognize nursing excellence and achievements in education, innovation, leadership, research and quality patient care.
More like this story
Latest stories
Latest video:
Mosier oil train fire
Clips from oil train fire in Mosier, Friday, June 3, 2016. by Mark B. Gibson/The Dalles Chronicle. Enlarge