Wednesday, November 16, 2016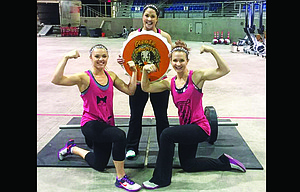 It was a race against time in the final event of the Gobbler Gauntlet for the local trio of Cassidy Tibbets, Vicki Renner and Hailey Elliott.
The moment was there.
Any slip-up or miscue during their relay made a difference between first and second place in the standings.
When the finals times were announced, The Dalles trio had a final time of three minutes and 58 seconds, two seconds better than the next opponent to capture first-place honors at the Gobbler Gauntlet this past Saturday at the Oregon State Fairgrounds in Salem.
"We had to relay down and bring back every piece of equipment we needed for the workout, set it up, and begin the required workout," Elliott said. "If we had taken one break or switched one thing, we wouldn't have taken first. But, to overtake a team in that short of time was amazing regardless of the outcome."
At the Gobbler Gauntlet CrossFit event, 63 other three-person teams and 600 participants competed against each other for top honors.
Elliott, Renner and Tibbets competed in overhead squats with a water-filled PVC pipe, pull ups, relays, and max lifts, to name a few.
Tibbets set a personal record in the three-rep max clean, a lift to get a barbell from the floor and onto her shoulders in one fluid movement, at 160 pounds.
Elliott has been around Tibbets from the very beginning and she called The Dalles High School senior a force to be reckoned with.
"No one would have known Cassidy was the rookie," Elliott said. "She is always calm and collected and it was just that for the competition. Just like when she is in the gym training, she would listen to what we would tell her. She does what is expected of her and more. She is unstoppable and she has a bright future in CrossFit and beyond."
The Dalles team held first place through the first three workouts, but in the fourth event, placed fifth to drop down to second place for the finals.
The top-3 teams competed for the podium, and as the overall leaders, the team that was in first place was given a 20-second head start into a quick workout.
"It was quite intense," Elliott said. "The three of us worked so well together, and all of our various strengths played into each other's. It was incredible, and I couldn't be more proud of our team."
Elliott thanked all of the supporters and well-wishers, who stood by the team as they faced one of their biggest competitions of the season, especially fellow instructor, Jeff Lepinski.
"He traveled all the way to Salem to cheer us on and coach us from the sidelines," Elliott said. "He is simply an amazing guy, and an even better coach."
With this latest workout in the books, Elliott said that the team will keep on its schedule in preparation for events over the next two months.
"We have an in-gym competition coming up called, "Winter Weightland" in December and then a big competition in Salem in January. That competition is a fundraiser for people living with cancer. We competed there last year and it was amazing," Elliott said.
CrossFit covers 10 different levels of fitness, ranging from speed, endurance, strength, power, agility, and balance.
Exercising all 10 of those levels is important for progress as an athlete.
More than the daily routines, the CrossFit program embraces a close-knit atmosphere and a positive environment to help build confidence and trigger a healthy lifestyle for years.
CrossFit The Dalles is located on 310 Madison Street.
If anyone is interested in joining, they can stop by the gym, call 541-993-9172 or log on to the website at www.crossfitthedalles.org.
More like this story
Latest stories
Latest video:
Mosier oil train fire
Clips from oil train fire in Mosier, Friday, June 3, 2016. by Mark B. Gibson/The Dalles Chronicle. Enlarge