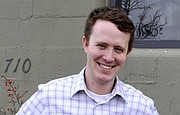 Matthew Klebes, who has been serving as director of The Dalles Main Street for the past three years, has been hired as the assistant to City Manager Julie Krueger.
Mayor Steve Lawrence said Klebes would be a strong addition to the city's staff.
"Matthew has established himself into the fabric of The Dalles," Lawrence said. "That will add strength to the city's emphasis on economic development, and help ensure our growth is healthy and measured. His job will be projects and economic development."
Klebes has a bachelor's degree in political science and a master's degree in public policy and management. He will be taking over the position recently vacated by Daniel Hunter, who became director of the city's Human Resources Department in September.
Klebes first day in his new role with the city of The Dalles will be Nov. 28.
In his role with Main Street, Klebes has worked closely with the city on a variety of economic development projects.
"One of the things I am really excited about with this new position that is coming up is that my wife and I will be able to stay in the community and be able to stay involved in projects we've been working on and help see them through," Klebes said. "We'll be able to continue to work with the same relationships and same partnerships throughout the community, and be able to assist Main Street in that transition and tackle some new projects."
More like this story
Latest stories
Latest video:
Mosier oil train fire
Clips from oil train fire in Mosier, Friday, June 3, 2016. by Mark B. Gibson/The Dalles Chronicle. Enlarge