Wednesday, November 2, 2016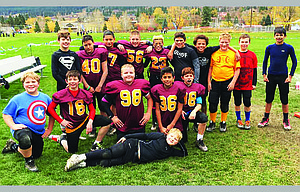 A Glance
The Dalles Youth Football Sixth Grade All Star Roster
Coaching Staff
Nick DeLeon......................Coach
Sam Heka..........................Coach
Lamont Crichton-Tunai.........................Coach
Ken Brock.........................Coach
---
The Players
Trevor West..........................OL/DL
Styles DeLeon........WR/RB/QB/LB
Kade Wilson...........WR/RB/QB/LB
Cesar Sanchez...................WR/DB
Andy Maney..................WR/TE/DB
Alo Heka......................RB/DL/LB
Chris McPherson...............WR/DB
Riley Brock.........QB/RB/TE/DL/LB
Noah Roden.......................WR/DB
Cameron Sorensen..............OL/LB/CB
Evan Baldy.........................OL/DL
Tyler Proshaka...................OL/DL
Ben Cannon..................OL/DL/LB
Phillip Casey.........................TE/LB
Manatu Crichton-Tunai...................RB/OL/DL
Logan Parsons....................OL/DL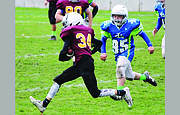 Even with just five days of preparation The Dalles sixth grade youth football team put up an impressive performance Saturday in an exhibition game played at Eastern Oregon University in La Grande.
Alo Heka posted a pair of touchdown runs, Riley Brock added a touchdown pass to Styles DeLeon, and the smashmouth defense gave up just two red zone trips through four quarters in TD's 18-8 victory over La Grande.
While the defense swarmed all over the field to shut down La Grande, The Dalles took control in the trenches with Logan Parsons, Evan Baldy, Ben Cannon, Tyler Proshaka, Manatu Crichton-Tunai, Trevor West and Cameron Sorensen, protecting Brock, opening holes for DeLeon, Heka and Wilson to create in open space.
"Our offense struggled in the beginning, but it was clear we had more power on the line and once the kids settled in, our offense was clicking," said TD coach Nick DeLeon.
Heka loosened up the La Grande defense with several big runs, finally breaking through in the second quarter.
On fourth down and goal from the La Grande 1, Heka plunged into the end zone for a score to give TD a 6-0 lead, it would keep at the half.
Ahead by one score at the start of the second stanza, Brock found an open DeLeon for a 55-yard connection, making it a 12-0 lead.
Early in the final period, Heka capped a long drive with a 30-yard touchdown scamper.
La Grande finally got on the scoreboard late in the fourth quarter with a touchdown and a two-point conversion.
At all three levels of the defense, from defensive backs, linemen and linebackers, the players were all over the field making stops and tackles for loss.
For having five days to soak in coach Sam Heka's defensive game plan, DeLeon was impressed with the gang tackling, physical play and pursuit to the football.
"We basically dominated the entire game defensively," coach DeLeon said. "They had some big plays, but we'd hold them and keep them out of the end zone. The group excelled defensively as a whole. There was a lot of team tackling and swarming to the ball."
Up until 2013, The Dalles Youth Football League and its players have never been given an opportunity to play as a complete unit of combined stars.
In four games, TD is a perfect 4-0 with three wins over La Grande and one against Hermiston.
There was no game played in 2015, due to various reasons.
Just some of the other names called on to represent TD included Cesar Sanchez, Andy Maney, Chris McPherson, Noah Roden and Phillip Casey.
"This was an amazing experience for this group of boys," coach DeLeon said. "Because we only had 16 kids, everyone played a fair amount on both sides."
Along with coach DeLeon and Heka, the staff included Lamont Crichton-Tunai and Ken Brock, so to accomplish what they were able to do this group young athletes, merging two coaching philosophies on offense and defense and only having five practice days to do it, DeLeon credited this group for their work ethic, dedication and persistence, especially when playing a team that had been together for several months.
When thinking of the experience, coach DeLeon expressed his profound respect and appreciation to all the players, coaches and TDYF sponsors for supporting the program over the past few years.
From top-to-bottom, it is a cooperation that breeds future success for the program.

"If these kids can stick with this sport and stick together as a unit, the future of TD football is exciting," coach DeLeon said.
For more information on the league, log on to www.eteamz.com/thedallesyouthfootball
More like this story
Latest stories
Latest video:
Mosier oil train fire
Clips from oil train fire in Mosier, Friday, June 3, 2016. by Mark B. Gibson/The Dalles Chronicle. Enlarge