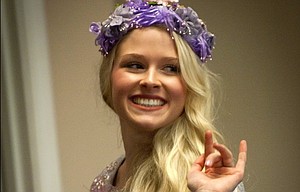 Photo Gallery
Vintage Memories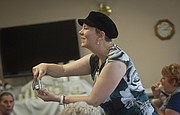 Fashion show brings new life to the past
When Mavis Olsen (Miller), 76, was married 59 years ago, she was beautifully dressed in a lacy white dress and veil she had selected with her mother, Anne Franklin.
"We picked it together, as I recall," said Franklin, 99, now a resident at Flagstone Senior Living in The Dalles. "We were born shoppers."
Last weekend, mother and daughter saw the dress return to life, modeled by a young member of the Hood River Valley Fashion Club during a vintage fashion show at Flagstone that featured styles from the 1930s through the 1980s.
"I told my daughter she could have worn it herself, but she said no," Franklin chuckled. "She was just 18 years old when she married."
The wedding dress was just one dress donated for the show by Franklin to be modeled by members of the club. Franklin's own dress was a long, formal lime-green one she used to wear to dances in Moro and Grass Valley, where she raised her family of six, and Kent, where she grew up.
Although memories of her daughter's wedding dress are a little fuzzy — "that was a long time ago," she said — the lime green dress she remembers very well indeed.
"That dress was in the show, the model was so pretty, much prettier than I was," Franklin said. She wore the dress when she was 30 or 40 years old, raising her children in Moro. "We dressed up so much, then," she remembered. She was a member of the Rebekah Lodge, where she frequently wore the dress, and also attended a great many dances.
"We always wore formals to dances," she said. They were held at community dance halls and granges. "There is nothing like that nowadays, which is too bad."
It was at the dances that her daughter was introduced to formal fashions. "You never had a baby sitter, your kids went with you," Franklin explained.
Getting ready for the dances was a family affair. "I made most of my children's clothes, my daughter and I chose fabric together," she remembered. "She (Olsen) was my oldest daughter, and she was pretty fashion-minded. She had good taste, we never had any arguments."
"A mother depends pretty heavily on her oldest daughter."
It was her daughter who came up with the lime green dress for the fashion show. "I didn't even know she had it," said Franklin.
Fashion comes and goes, and her vintage dress looks very stylish and modern today. "They could wear that now," Franklin said. Not so, her daughter's wedding dress. "It had long sleeves and a high neck, and that isn't in style now," she explained. But the model "looked very cute in it," she added.
The models were members of the Hood River Valley High School Fashion Club, which started in 2010 for students interested in all aspects of fashion, from design to modeling to planning fashion shows, said Cathy Carter, who organized the show at Flagstone where she works as marketing director and event creator.
A former model, Carter has been the mentor and advisor for the club since its inception. She also puts on fashion shows in the region.
Inviting the club to the center was a great way to support the club, and the residents and staff loved it, Carter said. "One of the goals is to find and create opportunities for members to model, shine and build confidence at various events," she explained.
Doing a show at the facility was a challenge, both for her and the models. "They are not used to having the audience so close," she warned those attending the event. The models, entering from a side door, passed within an arms-length of the audience.
"You would not believe how fast they are changing clothes back there," she told the audience during a short lull in the show.
The resulting show was impressive.
"It was a fantastic day," said Carter. "Not only was the show amazing, the models were stunning, turn-out was stellar, the food superb. And the relationship building and family connection was 'off the chart,'" she added.
A number of residents and their family members wore their own vintage fashions and jewelry to the show, said Carter.
In addition, Dorothy Hill, a resident, and her granddaughter Lisa Commander loaned several pieces to the show, including a satin wedding dress from 1941, and a 1940s red velvet opera cape and long velvet coat. Murriel Walters, another Flagstone resident, also loaned a silk dress to the show.
Members of the fashion club participating in the show included Tori Perkins, Kianna Semmes, Faith Ochesky, Jade Perkins and Yasmeen Ziada.
"We had fashions from the 30s through 80s, modeled by darling high school girls, many of the clothes brought to us by our beloved residents," said Sharla Webber Mosquedo, executive director of Flagstone.
"I can't tell you how much residents enjoyed seeing the fashions and hearing the stories behind them, like which resident owned which outfit and where they used to wear it," she added.
More like this story
Latest stories
Latest video:
Mosier oil train fire
Clips from oil train fire in Mosier, Friday, June 3, 2016. by Mark B. Gibson/The Dalles Chronicle. Enlarge