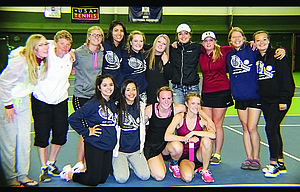 During the regular season, The Dalles girls' tennis team accomplished a lot of firsts and built on a solid foundation with a group of more than 30 tennis players on the roster.
This past weekend at Sunriver, the Riverhawks added even more highlights to a stellar campaign.
The doubles duo of Kiana Pielli and Johanna Wilson vaulted into the championship rounds, the team had seven athletes competing on the second day, a school record, and the team placed third overall behind Bend and perennial district champion, Summit.
"It has been a great season overall, and we made some great strides as a program," said TD head coach Debby Jones.
Pielli and Wilson had all the pressure on their shoulders coming into the tournament with just one loss and being selected as the No. 2 overall seed in the doubles bracket.

That early pressure seemed to fuel this dynamic duo.
They started off their run to the finals with a dominant performance against the Bend tandem of Reed and Beaver, scoring a 6-0, 6-0 win.

In the next round, Pielli and Wilson cruised past their Hermiston opponent to move into the semifinals, where they would face the top doubles team from Summit, Sonja Kinney and Sabryna Adrianson.
"This was a big match for the two, because the Summit coaches had pushed hard for their duo to be selected as the No. 2 seed," Coach Jones said. "Jo and Kiana wanted to prove that they earned and deserved that selection and put their 'A' game together to win in straight sets."

That win would earn them a trip to the finals to face the only team that had defeated them all season, defending state champions, Kyla Collier and Jesse Vezo, of Bend.

Four games into the opening set, Mother Nature pelted rain and hail on this match.
Two hours later, the action resumed on indoor courts with Collier and Vezo picking up a 6-1, 6-2 win for the Special District 1 title.
"Each time they play the No. 1 team in the state, they learn a great deal and they are gaining the confidence to know that they can play and compete with the top players in the state," Jones said.
Pielli and Wilson enter state action later today at Portland Tennis Center with a 21-2 overall record – the only two losses coming against Collier and Vezo, so if things go well, the two teams could very well face off again.
For Wilson, this is her last state rodeo, so she has that inner drive to move forward with everything she has to cap her career with some hardware in her trophy case.
"The pressure is immense, because every point matters," Wilson said. "I am the type of person to take that in stride and to play better with that pressure."
Jones is happy and proud this duo gets to keep playing.
Not only have they been solid players and leaders, but they are ambassadors to a tennis program on the rise.
"I am so pleased with their play and dedication, but these two are not just tennis machines," coach Jones said. "They are student-athletes and they somehow manage to play amazing tennis, excel in the classroom and are all-in-all great kids. A lot of credit needs to go to their families, parents and grandparents."
Also on the doubles side, Emma Smith-Ell and Abby Minnick had to face the No. 7 seed in Markwick and McMahon from Hermiston in the first round and lost, but came away determined to do some damage in the consolation bracket.

They racked up a handful of wins and wound up with a doubles consolation championship.
On the singles side, Robin Pashek was selected as the No. 4 overall seed, but she had to square off against Danielle Axlen, Summit's No. 3 player.

As one of the singles sleeper picks, Axlen, who finished fourth overall, Axlen defeated Pashek in their opening match.
"It was a big blow to Robin, who played well, but the consistency of Axlen was just too much," Jones said. "I think, at that moment, Robin probably felt like just going home because this was never the plan to lose in the first round. Instead, she picked herself up and stormed through the consolation bracket and earned a spot on the podium when it was all said and done."
TD singles player, Jocelyn Hernandez, lost to Brandy Brown, from Pendleton, in the first round and then was defeated by Alexi Overland in consolation.
Tiani Langston lost to Kathren Tyler, of Bend, and then picked up three consecutive wins in the singles consolation bracket before losing in the semifinals.
Brittany Bernstein ended up on the losing end of her opening match against Hood River Valley's Kirby Joseph, but then picked up her game significantly and scored three straight wins to reach the consolation finals, where she was defeated by her teammate, Pashek in the consolation finals.
Maggie Corey and Cassie Vazquez were defeated by Hood River Valley's Green and Oswald in the first round of their doubles contest, and they were narrowly defeated by Cronen and Kuang, from Mountain View, in the consolation bracket.
Rebekah Kohltfarber and Ellie Trujillo started off well with an opening-round triumph over their Pendleton opponent.

They lost in the next round against Summit's No. 4 seed, Amanda Hines and Eleni Harrington.
Hines and Harrington wound up earning a state qualification.

"Becs and Ellie played tough, but came away with the loss," Jones said.
While Pielli and Wilson keep their season going this weekend, the future is definitely bright for the Riverhawk program, given the number of athletes on the roster.
Wilson, a senior, is feeling optimistic about the direction that this group is headed.
"They are really good. There is not a lot of drop-off from any of these players," Wilson said. "The kids have really improved. I think we can start winning some district matches and start getting more accomplishments."
More like this story
Latest stories
Latest video:
Mosier oil train fire
Clips from oil train fire in Mosier, Friday, June 3, 2016. by Mark B. Gibson/The Dalles Chronicle. Enlarge