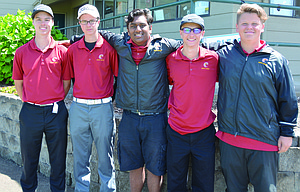 Chase Snodgrass ended up tied for 11th place with a 153 and The Dalles boys' golf team totaled 656 for a sixth place tie with Sandy at the two-day OSAA/U.S. Bank/Les Schwab 5A State Golf Tournament at Trysting Tree Golf Club in Corvallis.
In his 36-hole effort, Snodgrass, a junior, had 26 pars, eight bogeys, one double bogey and a birdie on the seventh hole on the second day.
Freshman Tyler Vassar wound up 26th out of 53 golfers, and added 19 pars, and two birdies in his 36 holes of golf for a total of 161, and Mark Felderman, another junior, went for 16 pars and a birdie and had a total score of 166 to secure 36th place.
"I didn't play too well out there on both days," Vassar said. "I could have made five birdies each day, but I only sank one. For my first time, it's not bad, but I would have been happier breaking 80. I was hitting a lot of greens and fairways, but not making putts and so it definitely gives me confidence for next year knowing I placed 26th. I can definitely improve."
Staked by nine pars, Jacob Ford carded a 87-89 for a two-day total of 176 and 45th place.
Senior Darsh Patel, who had 10 pars in the tournament scored a 91 and a 93 and a 184 in his final high school tournament.
"He definitely will be missed," said TD head coach Kent Smith about Patel. "Just his presence with the group and the camaraderie they had really helped everyone. It was great to have a cohesive group always together. He had some good rounds where his scores counted. There was a contribution there that we have not had from our fourth or fifth man in recent years. It helped us shave off a few strokes with him taking that spot."
The Crescent Valley duo of Kevin Geniza and Alec Berrey finished 1-2 in the individual standings, with Geniza hitting on a 71 and 67 for a 138, besting Berrey (145) by seven strokes.
Lebanon's Marcus Frazier had a 146, Bend's Max McGee added a 148, and Summit's Jack Loberg, Corvallis' Nick Rolen and Pendleton's Nathan Som ended up with 149 on the scorecards for a fifth-place tie. Summit's Cole Chrisman had a 150 to pick up ninth place, and Marist's John Pollock went for a 151 and 10th place.
Summit won the tournament with a team score of 602.
Bend (618), Pendleton (620), Marist (631), Crescent Valley (644), The Dalles (656), Sandy (656), Corvallis (662), La Salle Prep (665) and Wilsonville (674) rounded out the rest of teams.
On the first day of regionals and state, The Dalles scored 327 and on the second day of both events, they had a 329 on the scorecards to finish high in the standings.
Smith said it shows the consistency of this group.
All of the players will sign up for the Junior OGA circuit and will continue to work on putting, chipping and the mental game.
The Riverhawk head coach said he is confident that his team will make the necessary adjustments moving forward.
Although they lose Patel to graduation, there are two or three players coming through the pipeline that can be just as formidable.
"I am very confident that next year we can contend at state if we work hard enough this off season," Felderman said. "I am proud of how this year went, although, I know I could have done better. I am going to put in a lot of work this next year to make sure I'll be better next year. Going in to my last year, I am going to need to play at my best to help our team reach our goals, but if I put in the work I know it will happen."
More like this story
Latest stories
Latest video:
Mosier oil train fire
Clips from oil train fire in Mosier, Friday, June 3, 2016. by Mark B. Gibson/The Dalles Chronicle. Enlarge