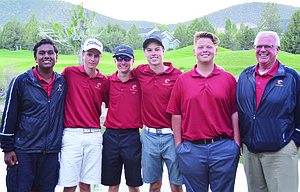 It has been a long time coming for The Dalles boys' golf team.
The seven-year state drought is now over.
Chase Snodgrass placed sixth overall, Tyler Vassar and Mark Felderman combined for an average of 165 on the scorecards, and the Riverhawks had a two-day tally of 656 to grab fifth-place honors at the 5A Special District 2 Golf Tournament ending Saturday at Eagle Crest Golf Course in Redmond.
With a roster of two veterans and two newcomers, most of the attention was on senior Darsh Patel finally earning a chance at state in his final campaign that meant the most to the players and head coach Kent Smith.
"They worked well as a team and got along tremendously," Smith said. "We have lots of camaraderie and they would help each other when they are out there playing, working on swings and alignments, and those types of things. They were always helping each other to improve themselves. That, to me, is one of the most important aspects of the team game. They have certainly done that this year."
The Dalles boys' golf team ended opening-day action with a 327 to place fifth overall and held a 10-stroke lead over Mountain View (337) for the final state slot. Snodgrass had a 75, Vassar shot an 80, Felderman was good for an 86, Jacob Ford carded an 87 and Patel went for a 96.
Those scores were impressive, but the main emphasis of Smith was keeping up the pace on Saturday.
On the second day, Snodgrass, a junior, paced the Riverhawks with a 37-37 for a 74 and a two-day total of 149.
Vassar, a freshman, had a 40 on the front-nine, and ended his tournament with a 44 on the final 18 holes for a 164.
Felderman, also a junior, came through for a 39 on the front-nine on the second day, and he tallied a 42 on the back-nine to secure his 166.
Now with a chance to take on some of the best teams in the state next week at Trysting Tree Golf Course in Corvallis, Felderman is happy to see this group play up to their potential.
"It has been a lot of hard work and practice every day, but it's been really fun," Felderman said. "This team has just been really good at connecting as a group and pushing ourselves to be better and smarter when we play and it has paid off. I'm really excited that we are going, not just a few of us, but all of us, because it allows us to continue to bond and work together and represent our school."
Ford, a first-year player as a sophomore, picked up a 45-48 on the second day to make up his 180, and Patel followed up his 96 with a 46-44 on the second day to total 186 on his scorecard.
From Day 1, Smith and the players talked about a goal of making it to the state tournament, so the main goal was to continuously lower scores.
TD shot a 343 in its home tournament opener, added two tournament wins along the way, and had an average of 328 at district, so there was a 15-stroke improvement as a team.
"We have put in a lot of hard work and practice throughout the entire season, but the major difference is we have learned to play as a team," Vassar said. "We know that every shot we take ends up in our team total, so we make sure to make them count. It's definitely very exciting for all of us because it's been a while since we have been to state as a team."
Snodgrass has hovered around the mid-to-high 70s through the season, and both Felderman and Vassar have posted scores in the high 70s and low 80s, so there has been consistency within the top-3 players.
Patel and Ford finished the team effort with one of them bringing in a respectable mid-to-high 80s to help the scores, so it hammers home the thought that the Riverhawks are equally as dangerous from top-to-bottom.
Snodgrass and Felderman have been solid contributors for the past few years, Patel has always shown potential, and at the beginning of the season, Vassar and Ford were wild cards as first-year players.
"Tyler came through with good scores and Jacob was just as important" Smith said. "We are a well-balanced team, where one-through-five, we have golfers who can put up solid scores. It was great to have these younger players come in and it didn't seem like too much bothered them. They were able to work hard and the mental part of it did not get them down to the point where they would give up."
On the trip back home, Smith had his players write down areas they wanted to concentrate on this week in preparation for state.
The popular vote was focusing on putting, chipping, the short game and then the mental aspects of the game, keeping them at a high level and not getting down on themselves.
Vassar will emphasize long irons and some short wedges and Felderman is looking at his all-around game to sharpen up.
"If they can do that, improve in specific areas, they will be in good shape," Smith said. "The mental part is just as important. If you can focus on everything about golf, it separates the good scores from the bad scores."
Summit won the event with a two-day total of 584, 33 strokes ahead of Bend (617).
Pendleton (624), Marist (639) and The Dalles (656) rounded out the top-5 state-qualifying scores.
Ridgeview (668), Redmond (691), Mountain View (693), Churchill (709), Eagle Point (711), Hermiston (713), Ashland (736), Crater (899) and Hood River Valley (1,006) rounded out the team standings.
The Summit duo of Jack Loberg (142) and Cole Chrisman (143) finished 1-2 in the individual category, with Loberg taking a one-stroke win for medalist honors.
John Pollock, of Marist, placed third with a 146, and Ridgeview's Isaac Burger (148) and Bend's Rhett Pedersen (148) wound up tied for fourth place and Snodgrass was sixth after a 149.
Summit's Cooper Donahue (150) grabbed seventh place, and Summit's Eric Wasserman, Pendleton's Nathan Som and Reilly Hegarty, had 151 on the scorecards for a three-way, eighth-place tie.
While it is an exciting moment for the program, Felderman said the team is both happy to be given an opportunity to extend the season and also will use state as a launching pad for the future.
As tough as winning state looks on paper, the Hawks have a puncher's chance.
"We are happy just to be there, but we are also going to really try and make a name for ourselves and hopefully we can place well," Felderman said. "Winning this state event would be extremely difficult with the competition that is there, but I know if we work hard, we can place well."
Action starts at 9 a.m. on May 16-17 in Corvallis.
More like this story
Latest stories
Latest video:
Mosier oil train fire
Clips from oil train fire in Mosier, Friday, June 3, 2016. by Mark B. Gibson/The Dalles Chronicle. Enlarge