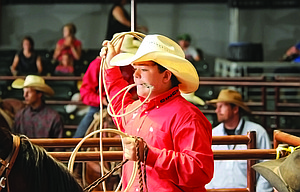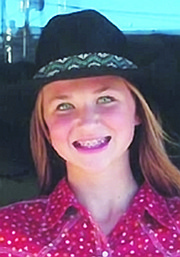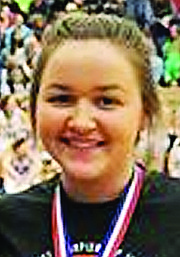 Columbia Basin Rodeo Club members Bryce Harrison, Morgan Brumley and Joely Patnode each had top-10 performances this past weekend at the state rodeo finals in Prineville to earn spots in the Silver State International Rodeo from June 27 to July 3 in Winnemucca, Nev.
Harrison qualified in steer wrestling and calf roping, Brumley punched her SSIR tickets for pole bending and barrel racing, and Patnode is headed to Nevada in breakaway roping and barrels, and partner, Jacee Currin, will make the trip with Patnode for team roping.
Harrison, out of Condon, landed seventh place in steer wrestling after placing fifth in the first two rounds with times of 15.42 seconds and 17.33.
Although he missed his mark on the final short-go rodeo, he totaled 64 points for the year and seventh place in the state.
In calf roping, Harrison finished 15th in the state, with a miss in the first round, and catching with a mark of 26.53 in the second rodeo, which included a 10-second penalty for a broken barrier.

"I am happy to represent Oregon at Silver State and it's a great way to spend extra time with my Oregon friends," Harrison said.
Brumley capped a successful state run with 47.5 points in pole bending. She hit a pole in her first two rounds at state, but placed third in the short-go rodeo, landing her in 10th place overall for pole bending.
In barrels, Brumley was unable to accumulate any more points while at the state finals, as she hit a barrel in her first round attempt and her second run wasn't fast enough to gain points, so she wound up in 15th place.
"I am so happy to be able to participate in rodeo and go to the Silver State Rodeo," Brumley said. "We work hard all year with the goal to qualify for Nationals or Silver State."
When rodeo contestants qualify for the state finals, they participate in two rodeos, where they can earn additional points. Points earned throughout the year are added to those additional points earned at in the state finals.

The final short-go is a third and final season rodeo event at state and it is made up of the top 10 contestants for each event.
The top 10 finalists are determined by points earned throughout the season and points earned while at the state finals. Each winning cowboy or cowgirl is awarded saddles donated by Les Schwab Tires for their top efforts. Additional awards are given to the remaining top-9 contestants of each event category.
Out of the top 10 of each event, the top-4 qualify to go to the National High School Rodeo finals held from July 17-23 in Gillette, Wyo.
Those who placed fifth-through-15th qualify to attend Silver State. SSIR has contestants from Canada and the United States.
Patnode, out of Arlington, placed sixth in the second round of state action in breakaway roping with a final tally of 3.91 seconds to pick up her SSIR berth.
Patnode and Currin then joined forces for fifth place in team roping with a mark of 15.51.

She finished 11th overall for state in barrels after hitting a barrel in the first round and having a clean run on the second. Patnode ended up 16th in goat tying, and then added an 18th in breakaway roping.
While she does have one more year to get to Nationals, Patnode is looking forward to another challenge in Winnemucca.
"As much as I had hoped to make it to Nationals, I am still happy to be competing at the SSIR," she said.
Earlier this month, Condon Elementary School sixth grader Kallyn Wilkins scored top honors as the Oregon Junior High State Pole Bending champion.
Wilkins, a first-year participant, is scheduled to compete in Lebanon, Tenn. at the National level this weekend from June 19-25.
More like this story
Latest stories
Latest video:
Mosier oil train fire
Clips from oil train fire in Mosier, Friday, June 3, 2016. by Mark B. Gibson/The Dalles Chronicle. Enlarge