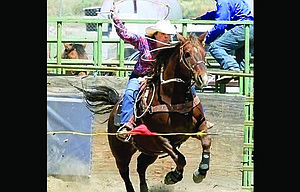 The Columbia Basin Rodeo Club had three of its five high school members pick up state qualifications and also had Condon Elementary School sixth grader Kallyn Wilkins crowned as the Oregon Junior High State Pole Bending champion.
Bryce Harrison, of Condon, earned his state bids in two events, and Morgan Brumley, a sophomore out of Dufur, is headed to state in both pole bending and barrel racing.
Joely Patnode, a junior from Arlington High School, punched her state tickets in barrel racing, goat tying and breakaway roping. Patnode and partner, Jacee Currin, are also going to state in the team roping event.
"Even though we come together as a team, we still compete individually and are always here to support each other," Brumley said.
"It's exciting to see three of our five members make it to state. It's big for our little club to have such a competitive team," Brumley added.
There are 163 high school rodeo contestants across the state of Oregon and they earn points as they place in their respective events throughout the rodeo season, which runs from September-through-May.
High School rodeos are held throughout Oregon and hosted by the various youth rodeo clubs.
Points accumulate throughout the season.
The top-20 contestants in each event are those who have earned the most points and qualify in their event to attend the Oregon High School Rodeo State finals June 8-11 in Prineville.
While at state, the contestants have the chance to earn additional points that can place them higher in their event ranking.

After the state rodeo finals are completed, the top-4 finalists in each event qualify for the National High School Rodeo finals held in Gillette, Wyo. from July 17-23.
Contestants placing fifth-through-15th in their events qualify to attend the weeklong Silver State International Rodeo in Winnemucca, Nev. from June 27-July 3.
As a Junior High qualifier, Wilkins, a first-year participant on the rodeo circuit, is scheduled to compete next in Lebanon, Tenn. at the National level from June 19-25.

Harrison placed 16th in tie-down roping and cleared eighth place in Steer Wrestling.
Morgan Brumley punched her state ticket after securing 10th place in pole bending and 15th in barrel racing.
Patnode enjoyed a 10th-place finish in barrel racing, added 15th in goat tying, 20th in breakaway roping, and also is attending state in team roping.
Rodeo events for boys include steer wrestling, team roping, tie-down roping, bull riding, bareback riding, saddle bronc riding, cutting and reined cow horse.
For girls, the events are barrel racing, pole bending, goat tying, team roping, breakaway roping, cutting, and reined cow horse.
With some time before hitting the big stage against some tough competitors, the master plan of the advisors and the athletes is to stay focused on the fundamentals of each event.
Tonya Brumley is sure this group is going in on a high note, so the best is yet to come.
"These kids have been working hard to perfect their rodeo events," Tonya said. "Not only are they working on their skills, but also the health and performance of their horses.
"The work continues year-round to maintain a strong, healthy animal for rodeo.
State is the next step toward Nationals and Silver State.
"All of us, as parents and advisors, wish the kids the best. We also thank our individual communities for all the great support of this team of great athletes," she said.
More like this story
Latest stories
Latest video:
Mosier oil train fire
Clips from oil train fire in Mosier, Friday, June 3, 2016. by Mark B. Gibson/The Dalles Chronicle. Enlarge