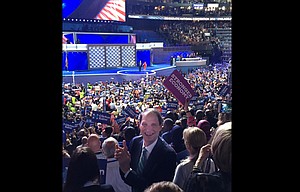 U.S. Sen. Ron Wyden (D-Ore.) has been camped out at the Democratic National Convention in Philadelphia most of the week, and in an exclusive interview with The Dalles Chronicle on Thursday, he said he's happy with the way the convention has gone and with the party's prospects for November.
Wyden, who has served Oregon in the Senate since 1996, said he is more optimistic now than when the convention started on July 25 that his party's nominee — Hillary Clinton — is on her way to the White House, and not Republican Donald Trump.
"Because of the clear choice between these two candidates, I was optimistic before the convention that Secretary Clinton will win in November," Wyden said. "And I am even more optimistic now."
Wyden reacted sharply to the recent statement by Trump that he hoped Russia had hacked Clinton's emails and encouraged the foreign nation to release them.
"Russia, if you're listening, I hope you're able to find the 30,000 emails that are missing," Trump said during a Wednesday news conference.
The GOP nominee later said his remarks were intended as "sarcasm."
"Trump's behavior wouldn't be believable if he was a character on 'House of Cards,' let alone a major party's presidential candidate," Wyden said. "Trump goes out of his way to praise Vladimir Putin, he advocates pro-Russian foreign policy positions – like breaking commitments to America's European allies – and now he's hoping Russia hacked the Secretary of State's emails? Anyone who cares about U.S. national security should be truly alarmed about the possibility that this man could be our president."
Wyden, who serves on the Senate Intelligence Committee, said it has not been confirmed that Russia was directly involved in the release of Democratic National Committee emails the day before the convention. The emails roiled the party by sparking more division between supporters of Clinton and her opponent, Sen. Bernie Sanders, as the convention opened.
"As for the DNC hack, I can't confirm that Russian state actors were involved in this," Wyden said. "But is it troubling that Russia may be trying to intervene in a U.S. election on behalf of Donald Trump? You bet it is. We know that Russian spies captured in 2010 were trying to gather information on the 2008 presidential race, so this would follow a pattern by Russia. But even without this hack, Trump's fondness for Vladimir Putin, his anti-NATO, pro-Russian views and his complete cluelessness about national security issues should worry anyone who cares about keeping America safe."
On another front, Wyden said he believes Clinton made a solid choice when selecting her running mate, Sen. Tim Kaine of Virginia.
"Secretary Clinton made an outstanding choice, and I fully support that decision because I know first-hand that Sen. Kaine is fully qualified for the job," Wyden said.
Divisions within the Democratic Party were on full display as the convention opened – with booing of Clinton's name by many Sanders delegates and the forced resignation of the Democratic Party Chair, Debbie Wasserman Schultz, who was revealed in the hacked emails as overtly favoring Clinton during the primaries.
However, Wyden believes that rift is healing, and he praised Sanders for his efforts to bring the factions together.
"Sen. Sanders made a strong and effective case that Hillary Clinton will make an outstanding president," Wyden said. "As somebody who has energized millions of voters nationwide, Sen. Sanders clearly knows the gigantic and substantive differences that exist between Hillary Clinton and Donald Trump.
"He outlined those enormous distinctions in his speech (Monday), and I wholeheartedly agree with Sen. Sanders' conclusion that the choice is not even close between the two candidates."
Despite a walkout by some Sanders delegates at various times during the convention, Wyden added that he was not overly concerned that there would be any lingering hard feelings between Sanders and Clinton supporters as the election season shifts into high gear.
"I am heading home from this convention to Oregon confident that Democrats are unified and focused on two things," Wyden said.
"Working tirelessly to elect an extremely qualified candidate in Secretary Clinton, and to defeat an obviously reckless choice who won't even release his tax returns while feeling free to spout outlandish and dangerous views."
More like this story
Latest stories
Latest video:
Mosier oil train fire
Clips from oil train fire in Mosier, Friday, June 3, 2016. by Mark B. Gibson/The Dalles Chronicle. Enlarge