Originally published July 28, 2016 at 04:53p.m., updated July 29, 2016 at 04:54p.m.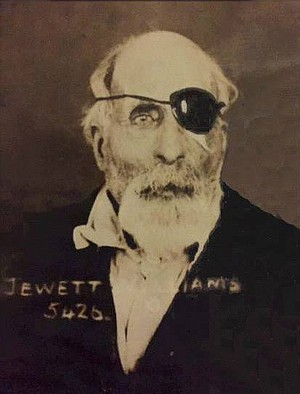 More than 150 years after the Civil War ended, the remains of a Union soldier are going home for a burial with full military honors.
The cross country journey of the late Jewett Williams begins in Oregon and ends in Maine, with two stops in the gorge on Monday, Aug. 1.
Area residents are being urged by Rod Runyon, Northeast District ride captain for the Patriot Guard Riders, to pay their respects to Williams when the carrier holding his cremated remains has brief stops in Cascade Locks and The Dalles.
"People are welcome to bring their flags and be at the two stops to honor this soldier," said Runyon, who is organizing the escort for Williams from Cascade Locks to the Hermiston exit off Interstate 84.
Bikers wanting to escrot veteran from the 20th Maine Volunteer Infantry Regiment are asked to meet at Burger King, Sixth and Webber streets in The Dalles, at 10 a.m. Monday.
The group will then travel to Cascade Locks to meet up with PGR riders from the Willamette Valley who are carrying Williams' remains from Salem, where they were recently found in the basement of an Oregon State Hospital facility.
According to intake records, Williams was admitted to the hospital in 1922 due to poor health tied to progressive senile dementia.

He died three months later on July 17, 1922, of arterial sclerosis.
His ashes were found earlier this year in a copper container stored in the basement of a closed building.
Runyon said the ashes have been placed in a ceramic urn and that urn, plus the copper one, were wrapped in bubble wrap and placed in a wooden box for the journey.
Local PGR members take possession of the remains at the Shell station in Cascade Locks about 11:45 a.m. on Aug. 1.
Runyon said a folded funeral flag will be carried by a different rider and passed on with the urn across the U.S.
PGR is scheduled to be at the Chevron station near The Dalles Bridge about 12:45 p.m. Monday and leave about 15 minutes later.

Runyon recommends that people show up in Cascade Locks by 11:30 and in The Dalles at 12:30 to avoid missing the opportunity to pay tribute to Williams.
"PGR is going to be pushing it to get the remains to Idaho by nightfall so if we roll in early we are going to be leaving earlier," he said.
Although Runyon recently returned from a ride across the country with "Run for the Wall" to commemorate Memorial Day, he isn't joining this cavalcade for more than a day.
"Being involved in PGR certainly brings along some interesting missions," he said. "They open up all kinds of thoughts and feelings about our country and what service really means."
In 2012, Runyon helped escort the remains of World War II veteran Gerald Kight, a native of White Salmon, whose remains had been unearthed in The Netherlands.
Kight is believed to have died at the age of 23 in September of 1944. He was attached to the Army's 3rd Battalion of the 40th Parachute Infantry of the 82nd Airborne Division.
Runyon believed then that Kight's escort would be the most unusual that he would see, but now he is participating in the transport of a Civil War veteran.
"You just never know what you are going to be asked to do next — it's humbling," he said.
According to information provided by Mike Edgecomb, the PGR state captain for Maine, who organized the coast-to-coast escort, Williams was born in Houlton, Maine, in May 1844, the eldest of at least nine children to farming parents.
He enlisted in Company H of the 20th Maine on Oct. 12, 1864.
The unit was led by Col. Joshua Chamberlain and Major Ellis Spear and participated in several decisive actions that helped secure Union victory in the later stages of the war.
Williams' wartime experience included the Battle of Boydton Plant Road, Battle of Hatcher's Run, Battle of White Oak Road and Battle of Five Forks.
The 20th Maine was reportedly part of the Union force that accepted Confederate Gen. Robert E. Lee's surrender at Appomattox Court House on April 9, 1865.
Following Lee's surrender, Pvt. Williams and his company marched to Washington, D.C., where they underwent a "grand review" and were mustered out on July 16.
After a first failed marriage, Williams wed Nora Carey in Minneapolis, Minn., on May 14, 1871, and they lost their first child, Franklin, to scarlet fever in 1874.
Over the next 20 years, they had at least five other children, all born in Minnesota.
Williams worked as a carpenter and had moved his family to Pierce County, Wash., by 1892.
There is no record of divorce but Jewett and Nora appear to have drifted apart over the years.
She stayed in Washington with the children and he eventually made his way to Portland, where he spoke at several schools about his wartime experiences.
At the time of the 1920 census, he was listed as a widower. Descendants were unable to be located by Oregon officials who wanted to turn the remains over to family.
The ashes had been stored at the hospital and then apparently forgotten for decades.

The adjutant general of the Maine National Guard expressed the desire to see Williams' remains returned to his native state and Edgecomb set the wheels in motion.
"Originally, they were going to ship him home but I offered our service to bring him across the country," he said.
Williams' remains will be taken to Gettysburg National Cemetery for a special ceremony before arriving in Maine on Aug. 22. The ashes will be buried at Togus National Cemetery on its 150th anniversary observance, which takes place Sept. 17.
"He will be laid to rest with his Civil War brothers in arms," said Edgecomb.
More like this story
Latest stories
Latest video:
Mosier oil train fire
Clips from oil train fire in Mosier, Friday, June 3, 2016. by Mark B. Gibson/The Dalles Chronicle. Enlarge