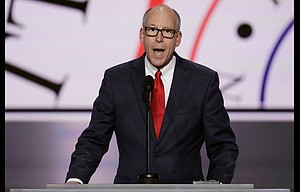 U.S. Rep. Greg Walden was one of the first speakers at the Republican National Convention in Cleveland that began Monday, and has been present each night since.
"I think it's a political convention with a lot of players but I think it's all coming together," he said in a telephone interview with The Chronicle Thursday morning prior to an appearance on C-Span.
On Wednesday night, Sen. Ted Cruz, R-Texas, failed to live up to his pledge to endorse Trump as the GOP presidential candidate.
Walden said it was not unexpected that Cruz told people to "vote their conscience" in November instead of urging them to support Trump. And the "boos" that followed his lack of an endorsement were also not a surprise.
"Mr. Cruz made a pledge on national TV and now he's gone in a different direction and that's important," he said.
On Monday, Walden spent time with Ohio Gov. John Kasich, another of Trump's primary rivals, who refused to attend the convention despite it taking place in his state.
Cruz and Kasich placed second and third, respectively, in the primaries out of the field of 17 original contenders. Trump took 37 states and 1,536 delegates, setting a primary record by 1.4 million votes.
"I don't really understand where they (Kasich and Cruz) are coming from but primaries are so brutal and I just think there are wounds that need to heal," said Walden.
He said Newt Gingrich, former speaker of the House, followed Cruz at the podium Wednesday and ad-libbed to remind viewers and the audience that Trump was the GOP's only contender for November.
"I think he did a skillful job of making the case that if you were a conservative, you really only had one choice and it's not Hillary Clinton," said Walden.
He said several speakers have pointed out that one of the most important aspects to the 2016 election is the appointment of up to four new Supreme Court justices during the next presidential term.
There is a vacancy on the high court brought by the death of Justice Antonin Scalia, a conservative, in February. Several other justices are advanced in age and also expected to be replaced.
"If you pack the court with justices from the left, our Constitutional freedoms could be deeply and adversely affected for decades to come," said Walden.
On Tuesday, Senate
Majority Leader Mitch McConnell was "booed" during his introduction at the convention, but went on to earn applause when he gave a fiery speech against Clinton, saying she would "do anything, say anything and be anything" to get elected.
Walden interpreted the negative reaction to McConnell as an indicator of the dissatisfaction among Americans with the way business is done in Washington, D.C. He said many House initiatives to curb the Obama administration's over-reach have not made it through the Senate because Republicans do not have enough of a majority to overcome Democratic opposition.

McConnell has also been ranked low in polls by Republicans who believe he needs to take tougher stands on spending and other issues.
Walden believes the push to get "outsiders" into the White House by both the Democratic (Bernie Sanders) and Republican parties in the primary is due to "eight years of Obama's overreaching regulations and executive orders that flaunt the Constitution."
"Clinton's been part of that administration and, over the last eight years, House Republicans have had to act as the first line of defense against their destructive policies," he said.
Walden doesn't believe people are disenfranchised with Republicans, given the fact that the GOP wrestled control of the House from Democrats in 2010 and now holds the largest majority since the 1920s.
In 2014, Republicans also took control of the Senate.

Walden, who chairs the National Republican Congressional Committee, is at the convention to recruit candidates for the House and network with other GOP officials.
He said, despite negative media reports, enthusiasm is high among Republicans, who are uniting behind Trump, even if the process has been slower for some than others.
Although many, himself included, had reservations about Trump due to his often bombastic rhetoric, Walden said his message about putting more Americans back to work is restoring hope.

He believes Trump has the ability to reignite patriotism and belief in America as the greatest nation on Earth, as Ronald Reagan did in the 1980s.
"Ronald Reagan once said, 'There are no great limits to growth because there are no limits of human intelligence, imagination and wonder,' and I believe Donald Trump is also getting that message out," said Walden.
He said, now that Trump is the official nominee, he should become the visionary for the party and let others engage in "political combat."
While watching Melania Trump's speech Monday night, Walden felt a lot of empathy because, although she never intended to become a political figure, she put herself under the scrutiny of millions to support her husband.
He felt it was unfortunate that Melania's speechwriter lifted parts of that speech from Michelle Obama's in 2008 that caused a media furor over "plagiarism."
"It was obviously a staff error and it never should have happened," said Walden.
"I thought the speech Melania gave was graceful and forceful. She speaks five languages and English isn't her first so I can't begin to imagine the pressure she was under. I think she knocked it out of the ballpark and it's too bad staff allowed that to happen."
Walden also feels that Trump's sons, Donald Jr., and Eric, and daughter, Tiffany, have captivated Republicans because they provide a glimpse of the candidate as a family man and business executive. Tonight, July 21, daughter Ivanka will take the stage.
"I think Americans are curious about the families of nominees, they want to know who they are and that's been the case throughout history," Walden said. "I think Donald Trump's kids have done a terrific job of giving people that perspective."
Walden said Mike Pence, the governor of Indiana who has joined Trump on the ticket as the vice-presidential candidate, did a "great job of outlining the Republican platform" Wednesday night.
Having an experienced politician who is a staunch conservative in the race will help Trump gain votes from people who have doubted his commitment to conservative principles, said Walden.
He predicted that Trump's speech tonight, July 21, will lay out a "Reagan-like" plan for America's future that revolves around job creation and less government intrusion.
"People don't want the status quo and that's going to be a big problem for Hillary Clinton," he said.
More like this story
Latest stories
Latest video:
Mosier oil train fire
Clips from oil train fire in Mosier, Friday, June 3, 2016. by Mark B. Gibson/The Dalles Chronicle. Enlarge