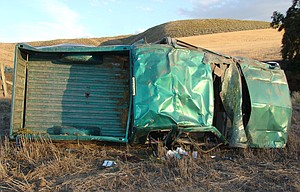 Two Dufur residents died in a single-vehicle rollover crash Sunday evening on Boyd Loop Road just outside Dufur, according to the Oregon State Police.
Both the driver, Tamara Janine Kucher, 40, and Hunter William Reese Spears, 21, who was riding in the bed of the 1994 Chevrolet 1500 extended cab pickup, were ejected when the vehicle lost control on a turn and rolled down an embankment, said Sgt. Kaipo Raiser. Both died at the scene.
None of the five occupants were wearing seatbelts, and Raiser said the crash could've been even worse than it was.
A third person, passenger Marshall Allen Johnson, 32, was also ejected and was lifeflighted to Portland with bleeding on the brain.
The vehicle had just left the Dufur Pastime, Raiser said, and alcohol is likely a contributing factor in the crash, which happened about a mile from the Pastime.
He said police reports would be forwarded to the Oregon Liquor Control Commission, as was standard procedure in such cases.
Johnson was the front passenger in the vehicle.
Sitting in the left rear seat of the extended cab truck was a 17-year-old female passenger who is the daughter of Kucher, the driver.
She was held overnight at the hospital and released Monday. Sitting in the right rear seat was a 16-year-old male passenger who was released Sunday night, Raiser said.
All the vehicle's occupants live in the Dufur area.
No witnesses observed Kucher's driving behavior, but the vehicle was traveling at a high rate of speed and was operated recklessly, Raiser said. Long skid marks leading to the crash site could be seen on the paved road.
Kucher was driving Spears to his home when the crash occurred.
Johnson told police he'd been at the Dufur Pastime for much of the afternoon, and was joined later by Kucher. The three adults in the vehicle, Kucher, Johnson and Spears, "had all been at the Pastime consuming alcohol," Raiser said.
Raiser said, "I cannot recall the last time that we have information that showed a fatality crash that indicated the individual operating the vehicle crashed immediately after leaving an establishment that served alcohol."
The teen male passenger called 911 to report the crash.
Raiser said the teen male passenger was "very forthright and cooperative with our investigation. He was there with his girlfriend [the female teen passenger], who was absolutely distraught and destroyed."
A Dufur School official contacted the state police and will be getting grief counselors for the school because the two teens attend school there, Raiser said.
More like this story
Latest stories
Latest video:
Mosier oil train fire
Clips from oil train fire in Mosier, Friday, June 3, 2016. by Mark B. Gibson/The Dalles Chronicle. Enlarge