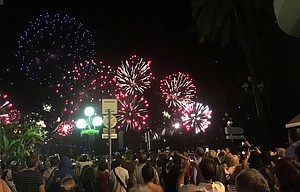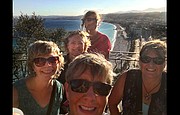 Five women from The Dalles on a month-long tour of Europe left a fireworks show in Nice, France, just 10 minutes before an attacker drove a truck into the crowd, killing over 80.
After the Bastille Day fireworks show finished Thursday night, Paula Fairclo and her friends first headed to a café to get gelato, but decided against it because the crowds on the mile-long seaside promenade were too massive.
So they turned back and headed for their hostel, two blocks away, to pack for their morning flight to Barcelona. On the trip are Judy Powell, Diana Pishion, Symantha Mcclennan and Sarah Pickette. The come home July 27.
Fairclo was interviewed by the Chronicle through Facebook messages.
"We were excited to see the fireworks over the French Riviera and they did not disappoint," she wrote.
About five minutes after they got back to the hostel, "a French gentleman that is staying in the same building came in and said something horrible is happening and he heard several people had been killed just down the block at the fireworks," Fairclo wrote.
"Then another gal staying here came in shaken up. She had gone to a restaurant on the promenade and the police came in and said leave right away, get away from the promenade, so everyone left their food and whatever and got away. She said she saw ambulances and a lot of police."
It took about an hour to learn what was going on, she wrote. "From what I am hearing right now, in the middle of this unfolding, a man driving a long white truck drove into the middle of all the people. Police shot and killed him to get him stopped. More than 70 were killed and more than 100 injured."
As she communicated with the Chronicle, it was 2:30 a.m. local time, about four hours after the attack, and she wrote, "I am hearing sirens, and people are still walking around. I can hear them talking under the window."
She said the number of reported dead and injured "keeps going up. It's so sad and tragic. What happens in a person's mind to allow you to do something so horrible!"
Asked how she was feeling, Fairclo wrote, "I'm ok. I feel very sad. I'm an EMT and it's weird knowing that just a few blocks away there are multiple people who were down enjoying the fireworks just like we were tonight who are either seriously injured or dead. And the EMTs are down there right now helping them."
She didn't try to go out to help because of the language barrier and because police told them to stay in the hostel. She wrote "the security is crazy because of the Paris attacks a few months ago."
While "the EMT in me had to keep following the story," Fairclo wrote, her friends had all gone to sleep earlier and "they don't know how bad it was yet. We knew something had happened but didn't have much info. They went to bed and seem to be sleeping through a lot of it."
Fairclo kept monitoring the situation while also fielding messages from worried friends in America who were checking on her via Facebook. Facebook activated its safety check for the Nice attack, and Fairclo marked herself as safe.
While gunshots were fired during the attack, Fairclo said they didn't hear them. "There is a music festival and fireworks and thousands of people. It was really loud down there."
While the women were planning to catch a plane in the morning, Fairclo wrote, "we are in the process of seeing if our flight is still happening." She said their area was "in lockdown" and "no taxis want to come around here to get us."
She added, "In the grand scheme of things missing a flight isn't that big a deal considering what's happening just a few blocks away."
As it turned out, while some flights were cancelled theirs was not. No bus service was available, but the hostel owner knew a taxi driver who was willing to come get them.
"We are in Barcelona safe and sound," Fairclo wrote this morning. "It has been a pretty wild 24 hours."
More like this story
Latest stories
Latest video:
Mosier oil train fire
Clips from oil train fire in Mosier, Friday, June 3, 2016. by Mark B. Gibson/The Dalles Chronicle. Enlarge