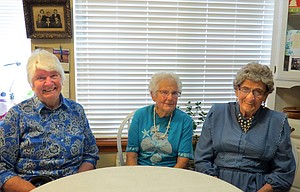 A party on Sunday for three friends who turn 95 tomorrow has been expanded to include five other people from Sherman County who also celebrate birthdays this week.
Leta Ann Reckmann of Grass Valley, daughter of Eilene Eslinger, has organized the event, which takes place at 2 p.m. July 17 at Sorosis Park.
All of the guests of honor have birthdays on July 13 or 14, said Reckmann.
Her mother joins Mary Fields and Nita Hooper in turning 95 on Thursday. All three women once resided in Kent but now make their home in The Dalles.
"I moved here because I got tired of doing yard work," said Eslinger, who loves the Cherry Heights Living apartment she has inhabited for a little more than a year.

Fields, a native of Canada who lived in Kent for years, resides at The Springs at Mill Creek. Hooper lives in a nearby mobile home park.
Another guest at the party will be Gertrude Buether, a native of Kent who moved into The Springs last January and turns 79 Thursday. The list of invitees also includes Rory Wilson, Craig Wood, Penny Eakin and Helen Brookings (Holmes).
"I am looking forward to visiting with friends — I hope they show up," said Eslinger.
Fields, who has lived in The Dalles for 10 years, is hopeful of having grandchildren from the Portland metro area at the party. She lost her only daughter to cancer years ago and has three grandchildren and six great-grandchildren.
Many of her family members live far away, so visits take place less often than she would like.
Her grandson who does reside in the gorge, Jeff Justesen, manages the juvenile side of the regional jail and Fields enjoys spending time with him.
Although they are nearing the century mark, Fields and Eslinger still volunteer to causes that are meaningful to them.
Fields gives time to Celilo Cancer Center and Eslinger to the Sherman County Historical Museum. In 2013, Fields received a Tradition of Compassion Award from the Mid-Columbia Health Foundation for her work with cancer patients.
She understands the challenges they face as a survivor of colon cancer who also lost a husband to the disease.
Although she has plenty of empathy for what people are going through, Fields is known for a straight-talking style that doesn't cater to denial.
"My father said, 'Tell it like it is, it's not going to change,'" she said.
One day, a man at the cancer center was having an emotional breakdown because of his diagnosis.
"I'm dying," he told Fields.
She recounted giving him this reply: "I told him that after I turned 79 I began dying a little every day. I told him we all die, it might be down the road, we might drop dead today. That we just need to have things in order and trust God."
The next time she saw the patient, Fields said he was fully engaged in treatment and making every effort to stay positive and actively engaged in life.
Her advice to young
people: "Use charity," which she defines as being truthful, patient, thoughtful, prompt, a good listener, deaf to gossip and criticism of others and careful to fulfill obligations.
"And trust God, absolutely," she added.
Fields remembers working as a hostess for many years at Central Washington University as a high point in her life.
Her husband, Doial, was the head electrician at the college and her job was to entertain dignitaries from across the U.S. and around the world.
Her lifestyle has been nothing if not diverse, with years spent farming wheat and barley and employment wrapping meat at the local market for five years.
Eslinger walks four miles per day, often stopping by Fields' place to visit.
She remains an avid reader, although her eyesight no longer allows her to knit, sew or do crafts.
Known for always having a positive outlook on life, Eslinger advises younger people to do the same.
"Just do the best you can with whatever comes up," she said.
On her "bucket list" is walking the Twin Tunnels portion of the Historic Columbia River Highway near Mosier. Reckmann has arranged for family members to accompany Eslinger on the 4.6 mile adventure on Saturday.
Eslinger's husband, Paul, died 27 years ago and she has kept busy taking care of their three girls and now five grandchildren and nine great-grandchildren.
In addition to farming and ranching, her resume includes running a farm machinery business for 25 years, which required her to become knowledgeable about tools and equipment. "I was the parts person, the janitor and book- keeper," she said.
One day she asked Paul for a raise, to which he replied: "What more do you want? You have a car to drive, a roof over your head…"
Eslinger still collects motivational sayings, which she takes to heart.
"I always think everything's going to be okay," she said.
Buether joined Fields and Eslinger for an interview Tuesday.
She described herself as a "homebody" who has been content not to travel as extensively as the other two women.
She never married and spent many years running the family wheat and cattle operation.
She was also a familiar face at the school in Kent, where she fulfilled clerical duties for 40 years.
Looking out for other people was the Buether creed and Fields said Gertrude and her parents, who emigrated to the U.S. from Germany, were "very giving."
Others always benefitted from the produce raised in their large garden.
"She has a quiet sweetness about her," said Fields of Buether.
Both Eslinger and Fields concurred Buether might have an easy-going nature but she was very good at drawing boundaries with people.
"Students knew not to cross the line," said Fields.
Reckmann threw an 85th birthday party for her mother, Fields and Hooper which they asked to have made an annual event, a request she was happy to grant.
This year, because all three women now live in The Dalles, the event has been moved from Sherman County into town, something that Reckmann hopes will not affect attendance.
More like this story
Latest stories
Latest video:
Mosier oil train fire
Clips from oil train fire in Mosier, Friday, June 3, 2016. by Mark B. Gibson/The Dalles Chronicle. Enlarge