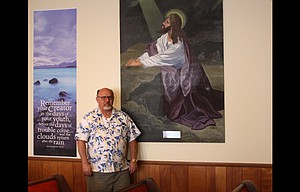 Although recent decisions of The Dalles City Council may make it a moot point, Maj. Ronald Wildman of the Salvation Army wants to make it clear that the facility at 623 E. Third Street indeed serves as a church. And he brought out plenty of evidence to back his case.
Wildman, an ordained minister, said he was disappointed city officials did not seek the viewpoint of Salvation Army officials before deciding to simply drop churches, along with day care centers, from the list of entities that qualify for a 1,000-foot buffer zone from any business that sells marijuana. Wildman said the Salvation Army is a family and social services organization that takes on numerous roles in support of the community, including Sunday worship services.
In late June, city officials determined that medical marijuana seller Columbia River Herbals, at 609 E. Second St., a block away from the Salvation Army, could be forced to curtail or even close its business if the Salvation Army was categorized as a church.
Columbia River Herbals, which opened in September 2015, originally sold medicinal marijuana but is transitioning into selling recreational marijuana.
"We think we're a church," Wildman said. "I ask people how they would define a church. We have a doctrine, youth groups, summer camps, ordained ministers, worship services, Sunday school, and Bible study. It irritated me to hear people trying to say we're not a church."
In fact, it was that issue – how precisely to define a church – that led to The Dalles City Council reaching consensus at its June 27 meeting to drop churches from the buffer zone list. Schools and parks remain on the list.
The Salvation Army holds worship services in The Dalles every Sunday at 10:30 a.m., with Sunday School at 5:30 p.m. and Bible studies every Wednesday evening at 6:30. The Salvation Army's mission statement describes it as "an evangelical part of the universal Christian Church."
At the June 27 meeting, City Attorney Gene Parker advised the council to drop churches from the city's marijuana ordinance, noting "the difficulty to ultimately make that determination as to if it's a church or not."
Wildman, a minister since 1988, said he took issue with Mayor Steve Lawrence's comment that the Salvation Army is "a thrift store."
"We're an evangelical church. Every week we have Sunday school and church," Wildman said. "We fall within the doctrine of Methodists and Nazarenes; we're very close to them. It's a shame we've been in the community for over 125 years and the mayor of the town doesn't know what we do. If we're an impediment one way or another, the city at least should have asked us how we feel about it."
Wildman pointed out that, in addition to the worship services, the service organization provides basic emergency services such as food and clothing for those in need; offers counseling; provides back to school backpacks and organizes a coat program to help keep people warm during the winter months. Other community support activities include Christmas dinner and toys for youngsters 14 and under; youth programs that include a safe teen drop-in center; after-school programs that include homework assistance; and adventure camp activities.
"I am well aware of what the Salvation Army does, and I helped initiate their holiday bell ringing this past year," Lawrence responded. "As to the definition of any religious services, I will leave that up to them. My comment referred to the majority of their activities that occur at their current location solely for the purpose of land use considerations."
Wildman said he recognizes the city council has a difficult decision to make.
"I wish people didn't use pot. I wish marijuana didn't exist at all," Wildman said. "But this is a decision the community has to make. From a moral point of view, no one should be using recreational marijuana or drugs to modify behavior or moods. If I could wave a magic wand and do away with all alcohol and tobacco and pornography, I'd do it in a heartbeat. But the reality is, that's the state of fallen man. They use these substances in their lives to compensate and to get through hard times and issues in their lives they don't have other ways to deal with."
City Councilor Dan Spatz said he supported the Salvation Army's position on its status as a church, and does not agree with the consensus of the other four council members to remove churches from the buffer zone list.
"I support the planning commission's original position regarding minimum distances from day care centers and churches," Spatz said.
"I will not support the ordinance as currently framed."
The Dalles City Council is expected to have a final vote on the proposed marijuana ordinance at its July 25 meeting, which starts at 5:30 p.m.
More like this story
Latest stories
Latest video:
Mosier oil train fire
Clips from oil train fire in Mosier, Friday, June 3, 2016. by Mark B. Gibson/The Dalles Chronicle. Enlarge